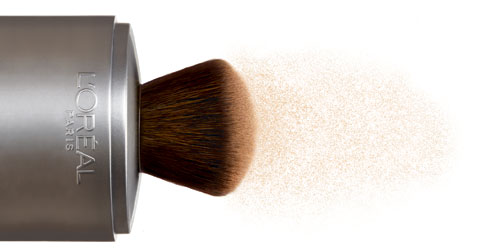 Oddly enough, I stumbled upon (ever so graciously of course) a great makeup base for the more heavily "character lined" ladies in the 70+ age bracket. It's a well known fact that powder and wrinkles can spell a recipe for disaster with the aged, hence the reason why most elegant elder stateswomen prefer to give it a miss in their increasingly minimalist makeup regime. All powdered products are generally the first to be jettisoned as they can rest awkwardly in the "character lines" or look rather caky. It's in knowing this about powdered products and their affinity for doing wayward things with wrinkles, that my product suggestion for a flawless base will most certainly surprise you: L'Oréal Paris True Match Minerals. I kid you not. Although targeted for sale within a much younger age group, this unlikely ally works a treat for those well traveled across the age ranges, so to speak.
Unlike many mineral makeup formulations, L'Oréal Paris True Match Minerals isn't sparkly nor a flat matte and is so finely milled that it imparts only the most delicate, lightweight, boundary-blurring veil across the skin, leaving a long lasting gloriously radiant, light reflecting, soft focus effect that is most welcomed. L'Oréal Paris True Match Minerals have been dermatologist tested and proven safe for sensitive skins and are non comedogenic and non-occlusive, which can still be an issue for some older, more mature skins. Let's not forget that like most mineral makeup, there is a SPF benefit in wearing L'Oréal Paris True Match Minerals as well, with its SPF of 15. L'Oréal Paris True Match Minerals contain aloe, and Vitamins B and E to nurture and to protect against free radicals. Who would of thunk it? A powdered foundation that actually plays fabulously well with wrinkles and provides a natural, earnest, skin-protecting coverage to boot. Love it! Another considerate addition to L'Oréal Paris True Match Minerals is its convenient packaging that comes with a built-in natural hair, kabuki-style brush that is protected and kept clean and readied for tidy, evenly dispensed use under the snap-on cap. Nice one L'Oréal!
L'Oréal Paris True Match Minerals are available in six universal shades to suit a variety of skin colours and is on counter at selected pharmacies, department, and variety stores nation-wide for $34.95 AUD. In Australia, your local stockist details are available by telephoning 1300 659 259.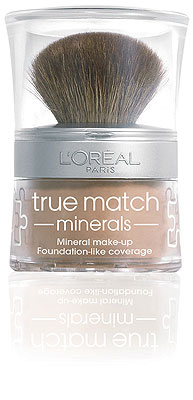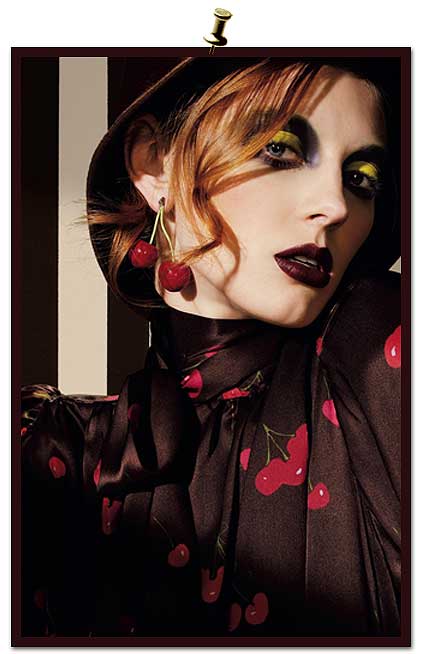 M.A.C.'s Cult of Cherry is luscious, dramatic, undeniably eroticized. Ripened lips, Spiced Hot Chocolate eyes or Illegal Purple nails, combine to seduce with a sweet-and-shock, way-to-go dark. Separates the bitter from the sweet. This drama just gets more delicious:
Lipstick

Crème Cerise Sheer yellow taupe (lustre)
Lightly Ripe Sheer mid-tone pink (lustre)
Russian Red Intense bluish red (matte)
"O" Intense purplish red with metallic gold (frost)
So Scarlet Clean grape burgundy (amplified)
Suggested Retail Price: $35.00 AUD

Lipglass

Cherry Blossom Sheer light pink with multi-dimensional pearl (frost)
Rich & Ripe Mid-tone pinkish red with multi-dimensional pearl (frost)
Cult of Cherry Clean red with red pearl (frost)
Liqueur Neutral brownish mauve with multi-dimensional pearl (frost)
Jampacked Sheer grape with multi-dimensional pearl (frost)
Suggested Retail Price: $34.00 AUD

MATTENE Lip

Rapturous Deep berry red (matte)
Kirsch Blackened cranberry (matte)
Chock-ful Blackened brown (matte)
Bing Blackened eggplant (matte)
Suggested Retail Price: $36.00 AUD

Powder Blush

Blooming Frosted deep dirty peach (frost)
Plum de Bois Frosted deep pink bronze with gold pearl (frost)
Suggested Retail Price: $40.00 AUD

Nail

Silverstruck Frosty greyed taupe with multi-dimensional pearl (frost)
Illegal Purple Creamy blackened eggplant (cream)
Suggested Retail Price: $22.00 AUD

Zoom Lash

Zoom black Rich black
Suggested Retail Price: $25.00 AUD

Eyeshadow Quads

Spiced Chocolate

Nanogold Sheer yellow pink with pink pearl (frost)
Brash Frosty reddish copper (vxp)
Spiced Chocolate dirty deep reddish brown (matte)
Sweet Chestnut Frosted cranberry (frost)
Suggested Retail Price: $72.00 AUD

Tempting

Next to Nothing Sheer yellow beige with pink pearl (frost)
Sharp Frosty bright yellow gold (satin)
Dark Edge Dirty chocolate brown (satin)
Tempting Rich coco (lustre)
Suggested Retail Price: $72.00 AUD

Shadowy Lady

Light Fall Dirty light pink (satin)
Smudge Violet Frosty blackened lavender with multi-dimensional pearl (frost)
Deep Truth Very dark blue (frost)
Shadowy Lady darkly veiled plum (matte)
Suggested Retail Price: $72.00 AUD
Cult of Cherry from M·A·C is available in Australia from 8th September, 2008 at all M·A·C locations. New members welcome *
*But, um…maybe don't drink the Kool-Aid.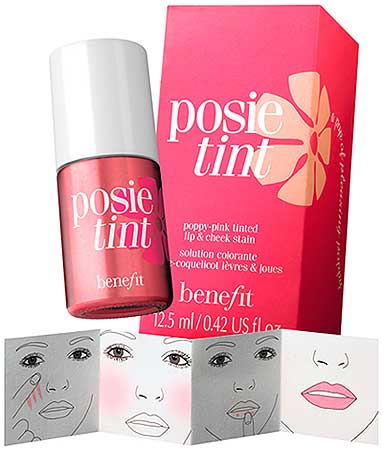 Gloriously enough, not much more needs to be said about this easy on the eye new release from Benefit Cosmetics. After all, isn't there a saying like pictures paired with pristine product are worth a thousand…something-or-another? Beauty Marked! reckons that with these nifty illustrative pictures and a bit of well placed poppy-pink Posietint you'll have the prettiest pout and most wonderfully winsome apples around, thanks to this perfectly pigmented product from Benefit Cosmetics. Benefit's Posietint Lip & Cheek Stain is set to grace our shores from July 2008 and won't the world be an even more beautiful place then?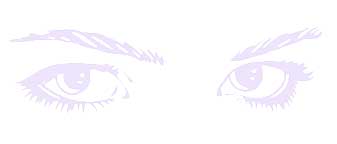 I have received a few emails of late asking about some of the many makeup placement terms used when describing the whereabouts and the why for of eye makeup artistry, which instantly reminded me of a Beauty Marked! post of yore that may just do the trick when it comes to explaining some of the terms often bantered about when it comes to all things eye makeup: If You're Going To Walk The Walk. Hope this helps a bit when your talking your beautiFULL talk.
-BM! x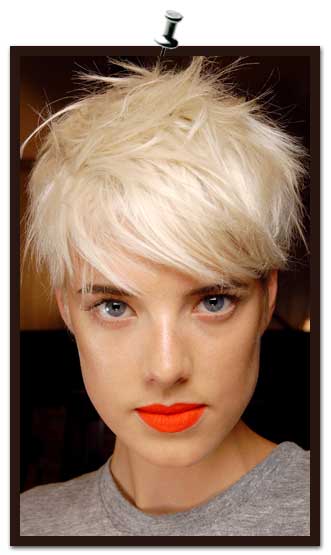 Now when Beauty Marked! recommends to "Go the Bold" lip, this is exactly what we mean (as photographed). This arrestingly beautiful and ultra bold lip, courtesy of M.A.C. for Temperly SS08, is just what we are talking about! The trend this spring/summer season is all about picking only one of your many best features and totally showing that one bit of gorgeousness off.
"A bright lip defines the tendency to just identify one element in the makeup this season- it's all about paring the face back to just one feature. For a switch in attitude from last season, the new bright lip is more attitudinal than luxurious. I'm really into setting a bright lip against a sheeny skin which makes it feel fresh, sporty, and modern." -Charlotte Tilbury
We are loving the Loud Mouth…without a doubt!
*Image courtesy of M.A.C. and may not be reproduced without permission. Thanks!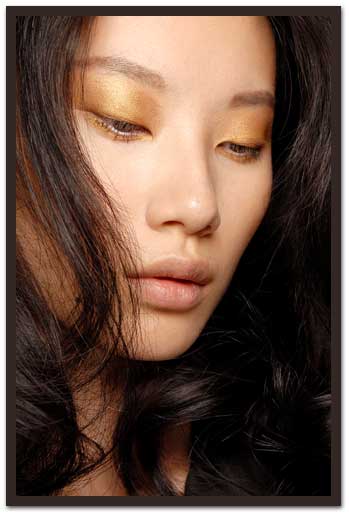 No matter how hard I try, I just can't seem to pass up a bit of M.A.C. Alchemical magic. The makeup trend seen in many of the Milan S/S 08 shows were, once again, the stuff that dreams are made of. As pictured, the makeup designed for the Salvatore Ferragamo show by M.A.C. was all about the Flesh Metal, juxtaposed by a sheer cheek and seashell shades on the skin and lip. Although M.A.C Gorgeous Gold was the heroine of the Show, this delightful beauty is alluringly devastating with an incandescent eye courtesy of Goldmine eyeshadow and a faint trace of white eyeliner to the waterlines. It's as simple and universally divine as that!
*Image courtesy of M.A.C. and may not be reproduced without permission.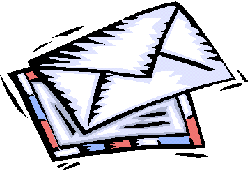 Dear BM!,
Rumor has it you are a huge cream blush fan. Do you have any tips on how to apply it? I am not 100% sure as to the best way and knew you'd have a tip or two to help me out. Thanks in advance.

I do love a touch of cream blush, that's for sure…nearly, but not quite, as much as receiving emails from my cherished readers. I did a post sometime in early 2007 that extolled the virtues of cream blush and it gave a tip or three that you may find useful. Here's an encore posting for your reading pleasure. Enjoy!