A Beautiful, Yet Unlikely Ally.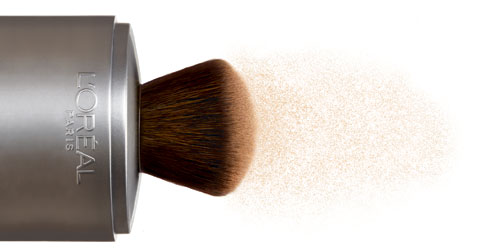 Oddly enough, I stumbled upon (ever so graciously of course) a great makeup base for the more heavily "character lined" ladies in the 70+ age bracket. It's a well known fact that powder and wrinkles can spell a recipe for disaster with the aged, hence the reason why most elegant elder stateswomen prefer to give it a miss in their increasingly minimalist makeup regime. All powdered products are generally the first to be jettisoned as they can rest awkwardly in the "character lines" or look rather caky. It's in knowing this about powdered products and their affinity for doing wayward things with wrinkles, that my product suggestion for a flawless base will most certainly surprise you: L'Oréal Paris True Match Minerals. I kid you not. Although targeted for sale within a much younger age group, this unlikely ally works a treat for those well traveled across the age ranges, so to speak.
Unlike many mineral makeup formulations, L'Oréal Paris True Match Minerals isn't sparkly nor a flat matte and is so finely milled that it imparts only the most delicate, lightweight, boundary-blurring veil across the skin, leaving a long lasting gloriously radiant, light reflecting, soft focus effect that is most welcomed. L'Oréal Paris True Match Minerals have been dermatologist tested and proven safe for sensitive skins and are non comedogenic and non-occlusive, which can still be an issue for some older, more mature skins. Let's not forget that like most mineral makeup, there is a SPF benefit in wearing L'Oréal Paris True Match Minerals as well, with its SPF of 15. L'Oréal Paris True Match Minerals contain aloe, and Vitamins B and E to nurture and to protect against free radicals. Who would of thunk it? A powdered foundation that actually plays fabulously well with wrinkles and provides a natural, earnest, skin-protecting coverage to boot. Love it! Another considerate addition to L'Oréal Paris True Match Minerals is its convenient packaging that comes with a built-in natural hair, kabuki-style brush that is protected and kept clean and readied for tidy, evenly dispensed use under the snap-on cap. Nice one L'Oréal!
L'Oréal Paris True Match Minerals are available in six universal shades to suit a variety of skin colours and is on counter at selected pharmacies, department, and variety stores nation-wide for $34.95 AUD. In Australia, your local stockist details are available by telephoning 1300 659 259.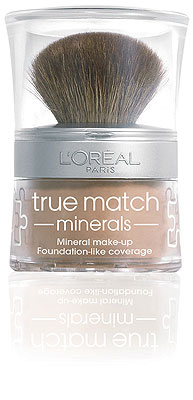 One Comment
Leave a Reply