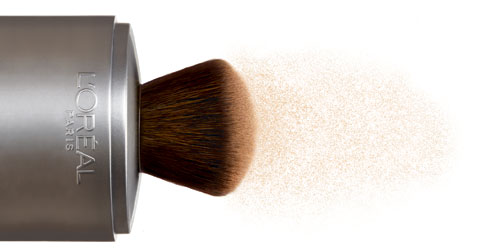 Oddly enough, I stumbled upon (ever so graciously of course) a great makeup base for the more heavily "character lined" ladies in the 70+ age bracket. It's a well known fact that powder and wrinkles can spell a recipe for disaster with the aged, hence the reason why most elegant elder stateswomen prefer to give it a miss in their increasingly minimalist makeup regime. All powdered products are generally the first to be jettisoned as they can rest awkwardly in the "character lines" or look rather caky. It's in knowing this about powdered products and their affinity for doing wayward things with wrinkles, that my product suggestion for a flawless base will most certainly surprise you: L'Oréal Paris True Match Minerals. I kid you not. Although targeted for sale within a much younger age group, this unlikely ally works a treat for those well traveled across the age ranges, so to speak.
Unlike many mineral makeup formulations, L'Oréal Paris True Match Minerals isn't sparkly nor a flat matte and is so finely milled that it imparts only the most delicate, lightweight, boundary-blurring veil across the skin, leaving a long lasting gloriously radiant, light reflecting, soft focus effect that is most welcomed. L'Oréal Paris True Match Minerals have been dermatologist tested and proven safe for sensitive skins and are non comedogenic and non-occlusive, which can still be an issue for some older, more mature skins. Let's not forget that like most mineral makeup, there is a SPF benefit in wearing L'Oréal Paris True Match Minerals as well, with its SPF of 15. L'Oréal Paris True Match Minerals contain aloe, and Vitamins B and E to nurture and to protect against free radicals. Who would of thunk it? A powdered foundation that actually plays fabulously well with wrinkles and provides a natural, earnest, skin-protecting coverage to boot. Love it! Another considerate addition to L'Oréal Paris True Match Minerals is its convenient packaging that comes with a built-in natural hair, kabuki-style brush that is protected and kept clean and readied for tidy, evenly dispensed use under the snap-on cap. Nice one L'Oréal!
L'Oréal Paris True Match Minerals are available in six universal shades to suit a variety of skin colours and is on counter at selected pharmacies, department, and variety stores nation-wide for $34.95 AUD. In Australia, your local stockist details are available by telephoning 1300 659 259.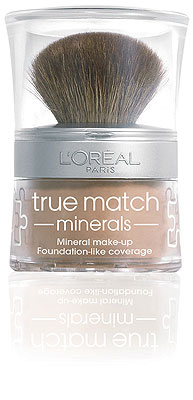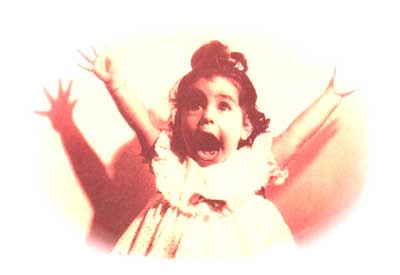 It's not often that I have a bellyache about my beloved beauty business, but I think today I must. This post is tantamount to a virtual scream into the pillow of profound frustration. Why must we always "Get The Look or Get The Hair of Missy Moo" or any one of the many millions of beautiful people in our beautiFULL world? What's the matter with getting our own gorgeous look? And your look is gorgeous too.
I am crazed today about this often bantered about slogan of "get this and get that", because I feel it quite cavalierly bypasses our own innate beauty. Why not get your own look and…Work It Baby!? This is a far better slogan that shows an appreciation for our own infinite beauty and doesn't prey on insecurities. The great thing about our beautiFULL world is that you are what make it so beautiful. Like it or not Lovely Ones…You Are Beautiful and it's about time you realized it, got your own look and worked it!
*end rant*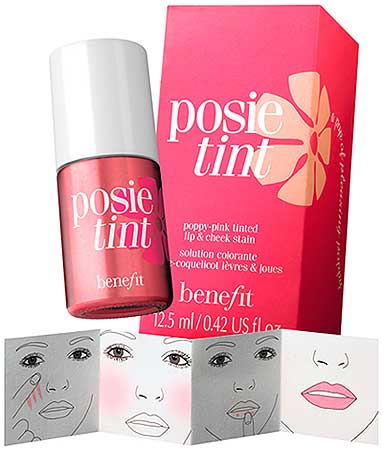 Gloriously enough, not much more needs to be said about this easy on the eye new release from Benefit Cosmetics. After all, isn't there a saying like pictures paired with pristine product are worth a thousand…something-or-another? Beauty Marked! reckons that with these nifty illustrative pictures and a bit of well placed poppy-pink Posietint you'll have the prettiest pout and most wonderfully winsome apples around, thanks to this perfectly pigmented product from Benefit Cosmetics. Benefit's Posietint Lip & Cheek Stain is set to grace our shores from July 2008 and won't the world be an even more beautiful place then?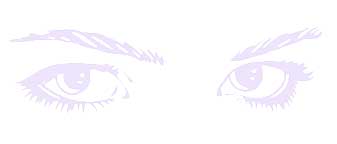 I have received a few emails of late asking about some of the many makeup placement terms used when describing the whereabouts and the why for of eye makeup artistry, which instantly reminded me of a Beauty Marked! post of yore that may just do the trick when it comes to explaining some of the terms often bantered about when it comes to all things eye makeup: If You're Going To Walk The Walk. Hope this helps a bit when your talking your beautiFULL talk.
-BM! x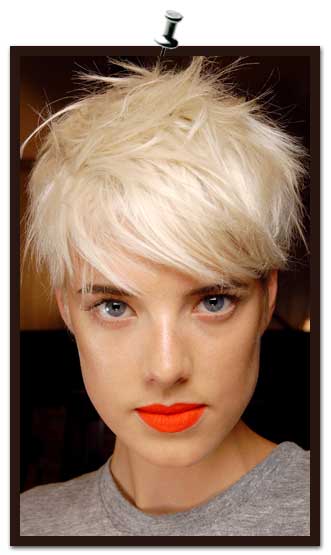 Now when Beauty Marked! recommends to "Go the Bold" lip, this is exactly what we mean (as photographed). This arrestingly beautiful and ultra bold lip, courtesy of M.A.C. for Temperly SS08, is just what we are talking about! The trend this spring/summer season is all about picking only one of your many best features and totally showing that one bit of gorgeousness off.
"A bright lip defines the tendency to just identify one element in the makeup this season- it's all about paring the face back to just one feature. For a switch in attitude from last season, the new bright lip is more attitudinal than luxurious. I'm really into setting a bright lip against a sheeny skin which makes it feel fresh, sporty, and modern." -Charlotte Tilbury
We are loving the Loud Mouth…without a doubt!
*Image courtesy of M.A.C. and may not be reproduced without permission. Thanks!
Hi BM!

What do you reckon about eyelash curlers? Are they really all that necessary? Looking forward to reading your thoughts. Thanks.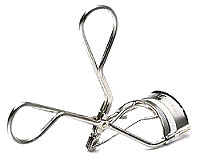 Oddly enough, I can not seem to find my eyelash curler for love nor money at the moment. I suspect it might have something to do with the ram-raid my 20 month old daughter did on my cosmetics wardrobe a week ago. Hmmm. On initial inspection, post ram-raid, I thought the damage was limited to only few cream blushes, an eyeshadow brush, and a couple of gel eyeliners….but upon the real rude awakening, which came a few days later, when attending to a full face (mine), I could not find my beloved Shu Curler that had been, on the quiet, both faithfully and capably called to service darn near daily. Gasp! So I was left to improvise and trust me, while the finger pressure on mascaraed lashes for about 30 seconds might be the go on a dessert island when you are forced to go without, but when you're not, the old finger ain't a patch on an eyelash curler. In its terribly missed absence, I now realize that my eyelash curler is a bit of an unsung hero, in fact. So to make a short story longer…yes, I do rather think they are necessary and work quite a ways at expertly opening the eye while giving you a more alluring and curvaceous look to your lashes and overall makeup look, absolutely.
Now, I'm off to find my long lost stellar beauty and if I can't, I'm calling in the troops to round up another. *sings woefully* Oh where, Oh where has my eyelash curler gone? Oh where, Oh where can she be?…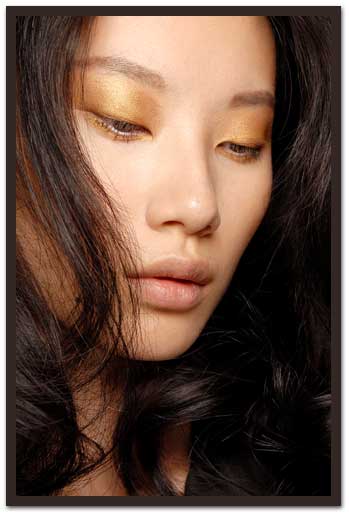 No matter how hard I try, I just can't seem to pass up a bit of M.A.C. Alchemical magic. The makeup trend seen in many of the Milan S/S 08 shows were, once again, the stuff that dreams are made of. As pictured, the makeup designed for the Salvatore Ferragamo show by M.A.C. was all about the Flesh Metal, juxtaposed by a sheer cheek and seashell shades on the skin and lip. Although M.A.C Gorgeous Gold was the heroine of the Show, this delightful beauty is alluringly devastating with an incandescent eye courtesy of Goldmine eyeshadow and a faint trace of white eyeliner to the waterlines. It's as simple and universally divine as that!
*Image courtesy of M.A.C. and may not be reproduced without permission.