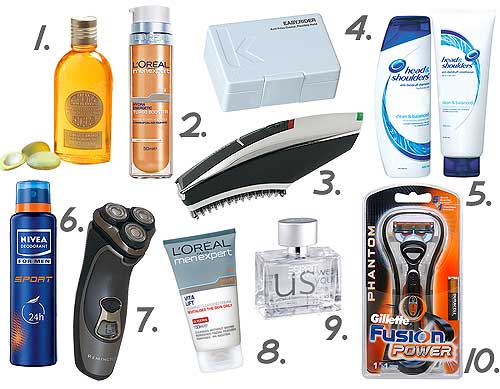 Lest we forget the fabulous fellas in our lives. In honour of our boys, Beauty Marked! has put together ten totally terrific bits of blokey beauty that are sure to keep our guys gorgeously groomed. Beauty Marked!'s Galerie de Toilettage contains an all star assemblage of grooming gear especially chosen to keep our men majestically and ever so masculinely manscaped…Just like we like!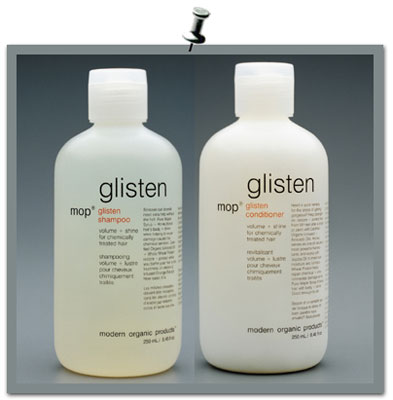 Nearly good enough to be served with ice cream and absolutely in fashion are tresses treated to MOP® Glisten Shampoo and Conditioner. Modern Organic Product (MOP®) has developed a lovely shampoo and conditioner made from organic and fab everyday ingredients to add volume and shine to your daily hair care routine. MOP® Glisten Shampoo and Conditioner are so very mildly citrus scented and are big on bonza ingredients.
Glisten Shampoo contains pure maple syrup and the powerful humectant honey to add enviable body and shine to the hair. Certified organic linseed oil and whole wheat protein make light work of restoring and protecting the hair, while the vitamin C infused orange extract gets on with effectively cleansing your alluring locks.
Glisten Conditioner works to mend hair that may be feeling the strain of chemical treatments and nuisance UV rays. MOP® Glisten Conditioner has been specially designed to strengthen, restore and protect the hair through its stellar ingredient lineup: Certified organic linseed oil, jojoba, and avocado oil are also joined by honey and wheat protein, in repairing chemical and environmental damage, while pure maple syrup gets busy amping up the body and shine.
MOP® Glisten Shampoo and Conditioner is a deliciously effective and unadulteratedly easy way to ensure your treasured tresses remain fabulously fit and as ravishingly radiant as you are! What? After all, it's not like you don't deserve it.
Visit MOP® online for more on modern, hip, and happening hair!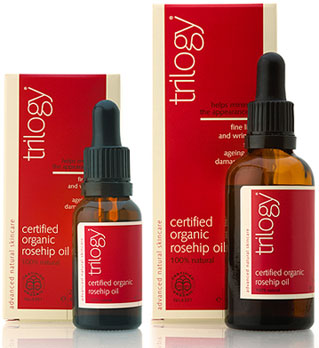 Thanks to Trilogy, finding the perfect product to nourish, hydrate, and to add a ridiculously wonderful amount of radiance is as easy as using Trilogy Certified Organic Rosehip Oil as part of your daily skincare regime. Trilogy Certified Organic Rosehip Oil is 100% certified organic and works tirelessly to give you glowing skin that's nourished with powerful antioxidants like betacarotene and lycopene, vitamins E and Retinoic acid, and essential fatty acids (Omega 3, 6, and 9). Trilogy takes the guesswork out of getting naturally beautiful skin. The hardest decision will be whether to pick the 20 ml bottle or the 45 ml bottle! Who would of thought that finding help to minimize the appearance of fine lines and wrinkles, scars, aging skin, and damaged skin would be as easy as that? Love it!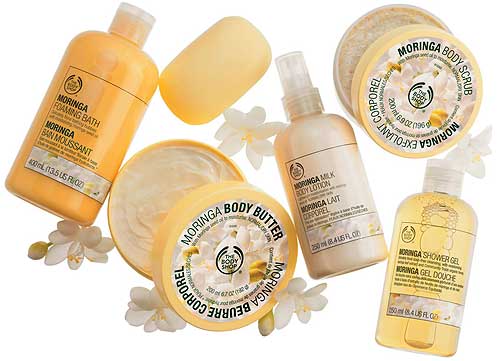 The Body Shop treats us, once again, to the magical miracles of nature as harnessed in the new Moringa Bath & Body range. The Moringa Bath & Body range is The Body Shop's newest offering and the first floral member across their vast and considerate product array. This fragrant and highly moisturizing collection consists of 6 products featuring Moringa seed oil.
"First used in Ayurvedic medicine some 4,000 years ago, Moringa seed oil comes from the Moringa tree, which is also known as the "miracle tree" due to its wide variety of beneficial uses. The Moringa tree provides 7 times the Vitamin C in oranges, 4 times the calcium and 2 times the protein in milk, 4 times the Vitamin A in carrots and 3 times the potassium as bananas. Moringa seed oil contains high levels of oleic acid, which is a fatty acid that helps to restore the skin's moisture levels, protects against drying and keeps the skin feeling soft and smooth. The oil was highly treasured by the ancient Roman, Greek, and Egyptian civilizations for use in protecting skin and making perfume. It was so good, that they even used it to create their own skin-smoothing product."
Furthermore, according to folks at The Body Shop, they just couldn't pass up the opportunity to use the miraculously moisturizing and nourishing benefits found in Moringa seed oil, hence the Moringa Bath & Body range was born. The Body Shop uses only the finest Community Trade Moringa seed oil and fragrance from the Moringa tree blossoms, as well as other delectably moisturizing and protective Community Trade ingredients in the new range. By choosing Community Trade ingredients, the customer is contributing to a worldwide program that works to support livelihoods for marginalized communities in more than 20 countries across the globe. Gosh, we love that!
Meet The Body Shop's new Moringa Bath & Body range:
Moringa Body Butter
Moringa Body Scrub
Moringa Milk Body Lotion
Moringa Foaming Bath
Moringa Shower Gel
Moringa Soap
*curtsies*
The Moringa Bath & Body range from The Body Shop is fragrantly and ever so fabulously on counter now. What a delight!

We can always use a quality cleanser that can effectively remove makeup, clean up a storm, while leaving our skin feeling its supple, vitaminized best, that is for sure. Clarins may just have come up with a delectable cleanser that can do just that. Clarins Pure Melt Cleansing Gel with Marula oil greets the face with a stellar gel textured formulation that glides onto the face in anticipation for effortless cleansing. Once in contact with the skin, Clarins Pure Melt Cleansing Gel, with aid from the skin's warmth, melts into an ultra-fine cleansing oil that makes light work of makeup and gently and effectively cleanses the skin from its daily adventures. Upon rinsing with water, the micro-droplets change into a milky emulsion which is easily and thoroughly rinsed off only leaving behind a silky thin veil of hydrating Marula oil, that is rich in oleic fatty acids and a hearty dose of vitamin C (4 times as much vitamin C as oranges in fact!). Who can pass up an opportunity to to indulge in such good clean, lavish fun? Certainly not anyone at Chez Beauty Marked!. Love it!
Clarins Pure Melt Cleansing Gel is on counter from March 24th, 2008. Mmmm…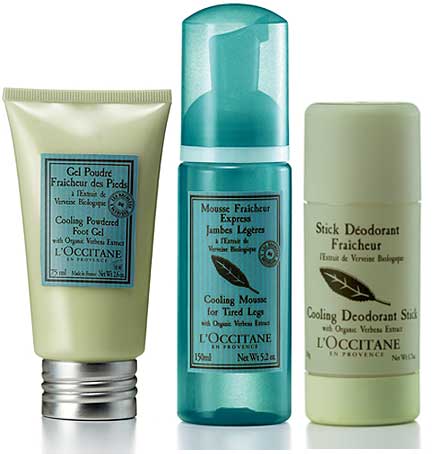 L'Occitane has recently released 3 trés cool additions to its Verbena Harvest range and all with L'Occitane's prized organic verbena extract. L'Occitane is proud to introduce you to: Cooling Powdered Foot Gel, Cooling Mousse For Tired Legs, and Cooling Deodorant Stick. This luxe trio is sure to keep you in great step in the warmer months and beyond.
Cooling Powdered Foot Gel With its amazingly novel and appreciated formulation aside, the organic verbena extract and invigorating, yet not-too-minty mint essential oil are able to transform a steamy, uncomfortable pedal predicament into a cool, refreshing, purified, and sensational situation for the soles. Cooling Powdered Foot Gel also contains antimicrobial sage essential oil and absorbent tapioca powder. What Beauty Marked! particularly loves about this all-star line-up of ingredients in this considerate formulation is that it not only manages to sort out your feet, but leaves them aptly treated without the greasy finish. Your feet are left revitalized and feeling silky.

Cooling Mousse For Tired Legs This lightweight mousse increases circulation and eases the tired sensation of weary legs. The mousse transforms into an icy cool liquid upon application, which delivers the perfect amount of menthol, organic verbena extract, and cyprus essential oil to perk-up your pins.

Cooling Deodorant Stick Seeing that your legs and feet are now sorted, why not go for pole position after making a pit stop with L'Occitane's fast drying, mint and sage essential oil enriched, and alcohol, aluminum salt-free stick deodorant? Cooling Deodorant Stick is infused with the delicate and long-lasting perfume of organic verbena, which leaves us well placed to confidently glide through the day. We love that!
L'Occitane Verbena Harvest is available from all L'Occitane boutiques nationwide and is…just too cool!
Being the savvy sweethearts that you are, you won't mind if Beauty Marked! has a wee shift of focus for today to highlight a few great grooming tips for the ever-so-handsome guys out there? So good-looking, these are just for you:
Shave If you are sporting a hair-free face, do shave at least once a day…twice if necessary, to keep up your groomed appearance.
Trim If you are going with a bit of facial hair, keep it trimmed and shaped.
Cleanse & Moisturize Even the blokiest blokes have skin (albeit rhino-like at times) and need to ensure that it stays clean, well hydrated, and sun blocked.
Exfoliate Your face and body will love you when you attend to at least weekly scrubs and will work to keep you looking your vital best.
Nails Clean, short, and filed are the three operatives here when it comes to finger and toe nails (yes, we do notice your dashing digits).
Duo-browed. And yes, it is an absolute requirement that you have two eyebrows at all times.