A Naturally Beautiful Pick!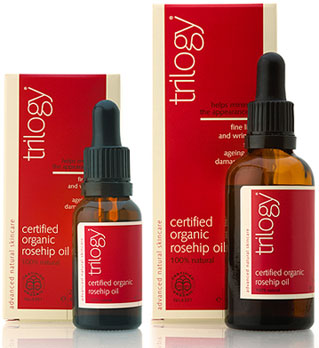 Thanks to Trilogy, finding the perfect product to nourish, hydrate, and to add a ridiculously wonderful amount of radiance is as easy as using Trilogy Certified Organic Rosehip Oil as part of your daily skincare regime. Trilogy Certified Organic Rosehip Oil is 100% certified organic and works tirelessly to give you glowing skin that's nourished with powerful antioxidants like betacarotene and lycopene, vitamins E and Retinoic acid, and essential fatty acids (Omega 3, 6, and 9). Trilogy takes the guesswork out of getting naturally beautiful skin. The hardest decision will be whether to pick the 20 ml bottle or the 45 ml bottle! Who would of thought that finding help to minimize the appearance of fine lines and wrinkles, scars, aging skin, and damaged skin would be as easy as that? Love it!
3 Comments
Beauty Marked! replied:


An oily/combo skin can still get fab use of this, but I'd like to think it would most suitably be applied in small amounts to clean, damp skin, not dry. If the user is prone to acne, this shouldn't exacerbate breakouts if applied in this way. You may like to avoid areas under direct seige by breakouts for a spell until this clears, but this is more for the user's peace of mind than anything. A spot test for sensitivity is always the go though…just to be sure to be sure.

I hope this helps.

x

June 27th, 2008 at 9:59 pm. Permalink.

Christine H. Farlow, D.C. replied:


Great post. Sounds like a really great product

November 23rd, 2008 at 9:33 am. Permalink.
Leave a Reply