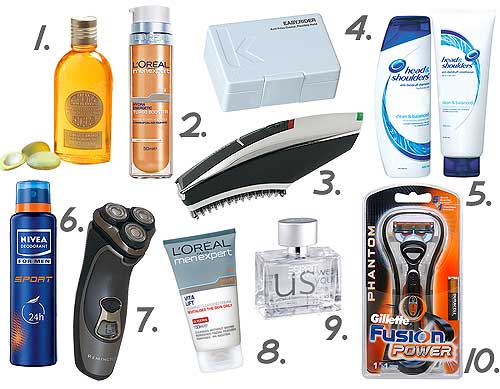 Lest we forget the fabulous fellas in our lives. In honour of our boys, Beauty Marked! has put together ten totally terrific bits of blokey beauty that are sure to keep our guys gorgeously groomed. Beauty Marked!'s Galerie de Toilettage contains an all star assemblage of grooming gear especially chosen to keep our men majestically and ever so masculinely manscaped…Just like we like!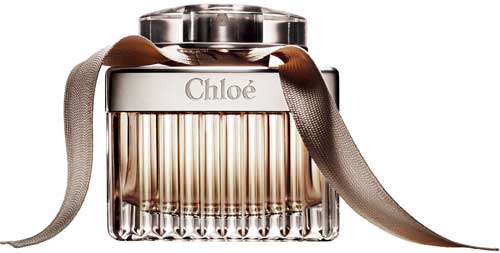 Chloé's newly unveiled signature scent undoubtably captures the innately chic, confident, and free spirited sensibility of the entrancingly feminine. While continuing to allure, Robertet perfumers, Michel Almairac and Almandine Marie, infused this luxurious scent with iconic Chloé notes of rose petals, enhanced by lychee, freesia, pink peony, sensuous magnolia and lily of the valley. Chloé fuses classic elements with fresh ideas and an airy sweetness accented with the most perfect woody strength. The honey notes in this gorgeously reinvented yet warmly reminiscent fragrance bring smoothness and comfort, while cedarwood and amber inspire a seductive and ever so cogent spiritedness.
The beautiful Chloé flacon is the creation of Patrick Veillet, who drew on the intricate detail of the sleeve of a Chloé blouse as the inspiration for the delicately pleated glass walls of the square flacon. The oval cap plays off the strong lines while the silver collar adds a nostalgic feel. Even the finishing touch of a loosely knotted petal-coloured ribbon speaks to the definitive elegance and élan of The House of Chloé.
The essential Chloé Fragrance Collection:
Eau De Parfum 30 ml
Eau De Parfum 50 ml
Eau De Parfum 75 ml
Perfumed Body Lotion 200 ml
Perfumed Shower Gel 200 ml
Just divine!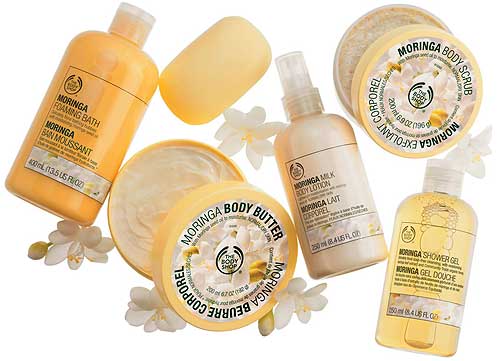 The Body Shop treats us, once again, to the magical miracles of nature as harnessed in the new Moringa Bath & Body range. The Moringa Bath & Body range is The Body Shop's newest offering and the first floral member across their vast and considerate product array. This fragrant and highly moisturizing collection consists of 6 products featuring Moringa seed oil.
"First used in Ayurvedic medicine some 4,000 years ago, Moringa seed oil comes from the Moringa tree, which is also known as the "miracle tree" due to its wide variety of beneficial uses. The Moringa tree provides 7 times the Vitamin C in oranges, 4 times the calcium and 2 times the protein in milk, 4 times the Vitamin A in carrots and 3 times the potassium as bananas. Moringa seed oil contains high levels of oleic acid, which is a fatty acid that helps to restore the skin's moisture levels, protects against drying and keeps the skin feeling soft and smooth. The oil was highly treasured by the ancient Roman, Greek, and Egyptian civilizations for use in protecting skin and making perfume. It was so good, that they even used it to create their own skin-smoothing product."
Furthermore, according to folks at The Body Shop, they just couldn't pass up the opportunity to use the miraculously moisturizing and nourishing benefits found in Moringa seed oil, hence the Moringa Bath & Body range was born. The Body Shop uses only the finest Community Trade Moringa seed oil and fragrance from the Moringa tree blossoms, as well as other delectably moisturizing and protective Community Trade ingredients in the new range. By choosing Community Trade ingredients, the customer is contributing to a worldwide program that works to support livelihoods for marginalized communities in more than 20 countries across the globe. Gosh, we love that!
Meet The Body Shop's new Moringa Bath & Body range:
Moringa Body Butter
Moringa Body Scrub
Moringa Milk Body Lotion
Moringa Foaming Bath
Moringa Shower Gel
Moringa Soap
*curtsies*
The Moringa Bath & Body range from The Body Shop is fragrantly and ever so fabulously on counter now. What a delight!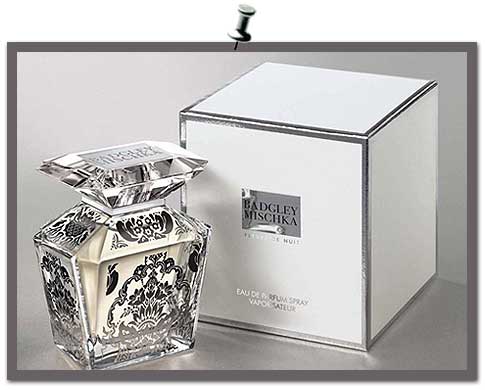 Surely it's only books we shouldn't judge by their cover, right? If not, you'll have to forgive me this one indiscretion, because the newest Badgley Mischka fragrance, Fleurs De Nuit, in its ever so couture and utterly gorgeous bottle, absolutely and with great fashionability, translates to the scintillatingly sumptuous scent inside.
Badgley Mischka's Fleurs De Nuit is an en trend white floral infused with nuances of green notes, fruits, and amber. Fleurs De Nuit, by Badgley Mischka, opens the show with fresh floral scents of magnolia, quince blossoms, and bergamot. The fragrance then moves onto the heart notes which are exquisitely reminiscent of jasmine, white peach, and orange blossom. The finale leaves one languidly luxuriating in the regal dry down of its woody amber scent. Mmm…
Fleurs De Nuit by Badgley Mischka is truly a beautiful fragrance for all seasons (not to mention totally fabulous enough to wear) and on counter now.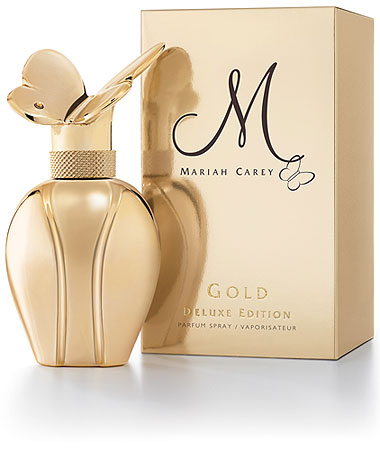 This week marks an illustrious, fragrant, and luxurious entrance befitting a superstar to coincide with Mariah Carey's latest album, "E=MC2″. M by Mariah Carey GOLD, is a very special version of Mariah debut fragrance, M by Mariah Carey. M by Mariah Carey GOLD is packaged in the same gorgeously shaped and exquisitely capped bottle as M by Mariah Carey. However, M by Mariah Carey GOLD, is dipped in a lavash metallic gold, while maintaining the same glorious scent of the original fragrance. As a top selling female recording artist and a five-time Grammy winner, it does seem rather fitting to immortalize Mariah's signature scent in gold. M by Mariah Carey GOLD, absolutely and most elegantly encapsulates Mariah Carey's verging on iconic charm.
"I absolutely love the parfum," said Mariah Carey. "It is a very dramatic bottle with a beautiful feminine fragrance inside. Wearing M by Mariah Carey GOLD is a very sensual and glamorous experience. It is almost like being wrapped in liquid gold."
M by Mariah Carey GOLD is on counter now, poised in a 50 ml Parfum Spray from major retailers nationwide.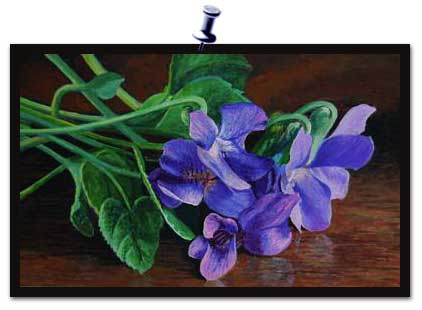 "Forgiveness is the fragrance that the violet sheds on the heel that has crushed it." -Mark Twain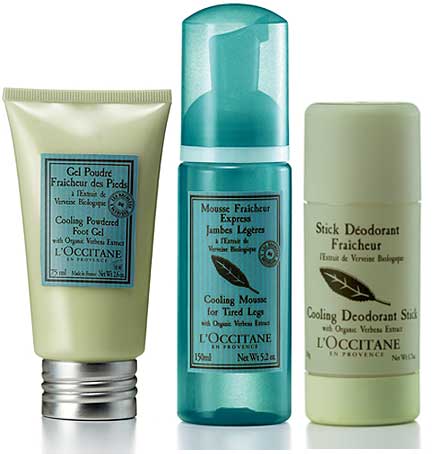 L'Occitane has recently released 3 trés cool additions to its Verbena Harvest range and all with L'Occitane's prized organic verbena extract. L'Occitane is proud to introduce you to: Cooling Powdered Foot Gel, Cooling Mousse For Tired Legs, and Cooling Deodorant Stick. This luxe trio is sure to keep you in great step in the warmer months and beyond.
Cooling Powdered Foot Gel With its amazingly novel and appreciated formulation aside, the organic verbena extract and invigorating, yet not-too-minty mint essential oil are able to transform a steamy, uncomfortable pedal predicament into a cool, refreshing, purified, and sensational situation for the soles. Cooling Powdered Foot Gel also contains antimicrobial sage essential oil and absorbent tapioca powder. What Beauty Marked! particularly loves about this all-star line-up of ingredients in this considerate formulation is that it not only manages to sort out your feet, but leaves them aptly treated without the greasy finish. Your feet are left revitalized and feeling silky.

Cooling Mousse For Tired Legs This lightweight mousse increases circulation and eases the tired sensation of weary legs. The mousse transforms into an icy cool liquid upon application, which delivers the perfect amount of menthol, organic verbena extract, and cyprus essential oil to perk-up your pins.

Cooling Deodorant Stick Seeing that your legs and feet are now sorted, why not go for pole position after making a pit stop with L'Occitane's fast drying, mint and sage essential oil enriched, and alcohol, aluminum salt-free stick deodorant? Cooling Deodorant Stick is infused with the delicate and long-lasting perfume of organic verbena, which leaves us well placed to confidently glide through the day. We love that!
L'Occitane Verbena Harvest is available from all L'Occitane boutiques nationwide and is…just too cool!