Hello Beauties!
I know it has been donkey's years since I've posted on my blog. Oh, the shame! I haven't been 100% AWOL though, it's more like 98.7%. As I have been gleefully working away doing all the beauty-FULL stuff that I love, but just in different guises. My latest adventure has been to finally get around to bottling a really wonderful all natural, exceedingly effective, Australian made head lice treatment that not only gets rid of head lice, but leaves you with really amazing hair!
As many of you would know, I have a gorgeous tribe of children, seven delightful cherubs to be exact. And more to the point, they have ALL been blessed with some of the thickest, longest, most delectably curly hair you can get, which while at primary school, has proven to be the perfect head lice magnet imaginable. Talk about mixed blessings. Sigh. So, seeing that their hair is such a nit-magnet, I have had plenty to do with getting rid of those often itchy nuisances, sadly. I've tried much of the products available on the market, just short of Napalm, and never really got wholly satisfactory results.
Seeing that necessity is the mother of invention, I made some kick butt hair stuff myself. The really cool aspect about developing a head lice product yourself and living and breathing all things beauty as I do, was that I was able to source and then create a treatment that uses the most top shelf ingredients available, that works and delivers great, head lice-free hair. So without further ado, it is my complete pleasure to introduce you to Wynn's Over Lice™.
Wynn's Over Lice™, quite naturally…does great hair!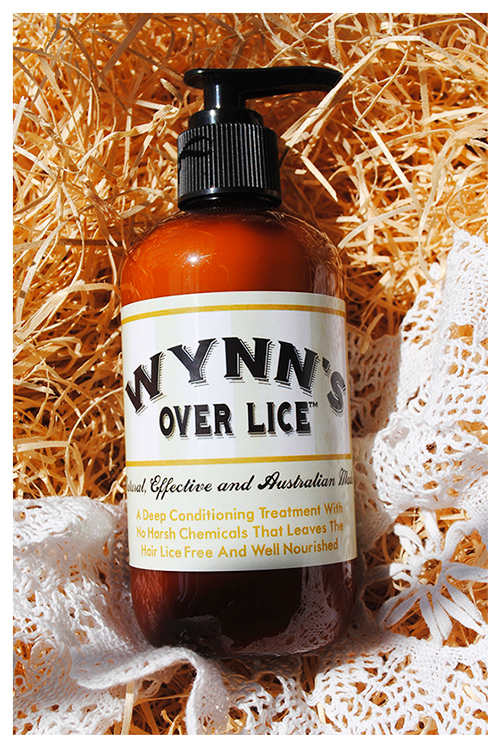 Do visit our Wynn's Over Lice™ website for even more details. We also have a Facebook page too, and you can follow us on Twitter as well. We've even made a couple of fun, 1 minute youtube videos that you should definitely watch if you're up for a scratch and a giggle or three. I'll be back to list those soon. Promise!
Gosh, is it ever so lovely to be back. But most importantly though, thank you so very much for dusting off our Get Even More Gorgeous With Beauty Marked! URL and coming by for a visit. You've totally made my day!