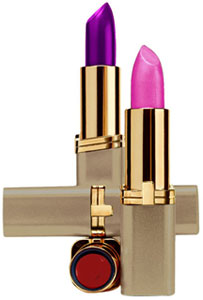 Frenzied? Freaking out? Feeling over it already and it's only Monday? I hear ya sister! Don't fall prey to a Mojoless Makeup Monday. What you need is a bold lip. Be it a ridiculously ravishing red, a beautifully brazen bronze, an outrageous orange, a punchy plum, a bumptious brick, or particularly precocious petal pink. It matters not which lipstick you choose, but that you choose one that pushes your boundaries.
To combat Monday and all its madness, first choose your statement lip and build the rest of your face around it. More than likely, all you will need to go with your lip du jour is lashings of mascara on curled lashes, brows, an innocent cheek, and away you go! Trust me, whatever Monday throws at you, when rocking a bold lip, you'll be ready. Enjoy!
Following on from yesterday's Get Even More Gorgeous With Beauty Marked! post about tightlining, I thought I'd mention another super sultry eyeliner technique of lining the waterline. The area of the eye called the waterline is also known in some makeup circles as the inner membrane. The waterline is the small 2 to 2.5 mm strip of skin that extends from where the eyelashes sprout forward from the eyelid towards the eye itself. This area of skin holds the same colour pigmentation as your face. There is a definite line at the inner most edge of this area which lies directly against the eye and is part of the lubricated area of your lid, which is not considered a line-able area and should not be lined. There is a waterline on both the top and the bottom eyelids, although, the bottom lid is the easiest to see and to access. Enough of the anatomy lesson, hey.
To be honest, when the waterline is not lined, your well applied makeup will still be gorgeous, but waterlined eyes seems to give an amazing airbrushed look to your overall eye makeup, which is just magic. You can line the waterline with your stock standard eyeliner colours, but do know that the waterline can take a pop of colour and rock it like the best of them. Feel free to line the waterline with super soft eyeliners that are completely glitter free and, equally importantly, eye safe. It's generally the done thing to avoid lining the waterline with shimmery, glittery, and polymer based liners or shadows as they are not eye safe. Another thing to keep in mind is that if you are using an eye safe pigment or powdered shadow to line the waterline, alcohol based mixing mediums and eyeliner sealant should be avoided. Visine is the only other prepared medium that can be used to mix with the powdered product to line the waterline. Failing that, plain, clean water will do. It will do quite nicely in fact.
I generally apply the eyeliner with a short handled, small filbert or paddle shaped brush, if not using a pencil, but experiment with what feels best for you. To line the bottom lids at the waterline, gently pull down on the under eye area with your pinky finger, just enough to pull the lid away from your eye a few millimeters to apply. Then gently pat the liner and or lightly sweep the liner across the waterline from the outer eye area towards the inner area of the eye where the lids meet. The same technique is done to line the top waterline, obviously pulling the lid gently upwards towards your brow though. Do be warned, that lining the waterline can feel a bit freaky. It's sort of tickly and slightly sensitive at the same time. Most folks get used to it eventually. My favourite tip is to continue to hold your lid away from your eye for several seconds after waterlining. This allows the eyeliner to set and any tearing of your eye to settle. This gives your liner half a chance by cutting down the odds, somewhat, of your liner instantly washing away.
Do give lining the waterline a try. Lining the waterline is yet another makeup technique that can nicely finish off your eye of the day. After all, who could pass up an opportunity to get even more gorgeous?
It sounds painful, right? Don't worry, it's not. Tightlining is a style of lining your eyes with eyeliner that gives the eyes mega definition as well as the appearance of thicker eyelashes. Essentially, what you do when you tightline is apply eyeliner precisely along the eyelash line: between and directly on top of your eyelashes. When tightlining, no liner is deposited above or below the eyelashes. Tightlining is easily done with super soft eyeliners, be they kohl, kajal, gel or powder. Eyes that are only tightlined don't look as though they have visible eyeliner applied. Tightlined eyes don't have that distinctive line just above or below the lashes, but look more as if you have just had your lashes tinted. Tightlining is a fabulous makeup effect that is worth keeping up your sleeve for those occasions when you're after a less obvious, but mega effective way to thicken the appearance of your eyelashes. Tightlining + volumizing mascara on curled lashes = va Va VA Voom! Bombshell Beauty! Our favourite!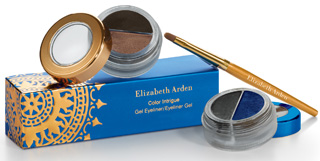 Just wanted to give you the heads up about a great LE collection being released in June 07, by Elizabeth Arden, called Cool Blue. Hot Bronze. The entire collection is exceptional, as we have come to expect from Elizabeth Arden, but the purpose of this post is to alert you to the two fantastic Color Intrigue Gel Eyeliner Duos only available for a short time in this collection. The Color Intrigue Gel Eyeliner Duos come in two colour combinations: Deep Brown/Hot Bronze and Black Sand/Blue Water. What's better is that each Duo comes with it's own natural haired eyeliner brush. They, perhaps, aren't the longest wearing gel eyeliners on the market, but are incredibly pigmented and will leave you with a great foundation for colour. What on earth am I on about you ask? Okay, let me break it down. The crisp bright colour you apply on its own will not last as initially applied, but it will deposit exceptional pigment that delivers a long lasting stain. So, if you wear this baby alone, you will be left with a nice even fade of color that is only reminiscent of the color first applied, but still very beautiful. So what's the point of that you say? The point of this, is that by the end of the day you will be left with a really comfy, water resistant, well worn liner that doesn't scream "just applied", but looks sultry and exceedingly enchanting. The stain does stay until removed.
Another cool thing about Elizabeth Arden Color Intrigue Gel Eyeliners is that they are so richly pigmented and apply so très smoothly that they make a killer base. After you apply the gel liners, go over the eyeliner with a corresponding powder eyeshadow to set. The Gel liner grabs hold of the powdered eye product and totally amps up both the colour and the dimension of both products. Simply scrumptious.
Deep Brown is nearly black but still brown. Hot Bronze is a red-free, finely milled shimmer of a true antiqued bronze. The shimmer does translate onto the lids and onto the stain as well. Black Sand is a flat black that smacks of charcoal and isn't harsh in the least. Blue water is a deep metallic lapis come cobalt that moves onto a gorgeous navy stain. The Color Intrigue Gel Eyeliner Duos have an ample total net weight of 5 grams. Do be sure to check out these beauties as with the complete LE Cool Blue. Hot Bronze. Collection, which is on counter from early June 2007.
1. a compact mirror.
2. facial towelettes (wipes that are able to gently remove makeup if need be).
3. A sample pot or sachet of facial moisturizer.
4. A good friend that will tell it like it is.
With these four items, you will, no doubt, quadruple your chances of buying the right foundation for yourself. So what are these necessities for? A mirror is absolutely essential for seeing your face and sample patches of foundation in natural light. The lights in the department stores are hideous and more often then not, misleading. Now that you have the foundation swatches on your face, it's obligatory that you excuse yourself from the counter for a moment for a "think" about your potential purchase, but really you're off to have a good look at the foundations being tested in natural light. If the foundation colour match is a goer, this will be instantly evident in natural light. Beauty Marked! always favours trying out at least two potential suitors to compare. Make sure not to blend the foundation in too well either. Go for the foundation that seems, most if not totally, invisible on your jaw-line. If it looks fab unblended, it's sure to look amazing when blended in properly.
Facial towelettes are fantastic for a quick cleanse and to remove any makeup that's on the area of your face (the jaw-line is my pick) you will be testing the foundation on. It's amazing how so many sales assistants don't actually remove any makeup that may be on the skin first, before applying more. Maybe it's just that your foundation is a lot better of a match than you originally thought. Wink. When you have removed any trace of pre-existing foundation or newly tested foundation, always moisturize the area without makeup, hence the need for a small amount of moisturizer. The additional application of a small amount of moisturizer helps to protect and prep the skin for more foundation, either the one you are about to sample or from the one you just removed. Foundation always sits better on moisturized skin. I also recommend that the moisturizer be one that you routinely use. It's always a good idea to reduce the risk of your skin completely mutinying with all the foreign activity going on at the time of foundation testing.
I wouldn't expect that the good friend I suggested you bring foundation shopping with you will need much further explanation. We can always benefit from having someone in our corner that is willing to tell you if the foundation being sampled is indeed a perfect match for you or not. Two "foundation friendly" pairs of eyes are always better than one. Don't worry too much either if you find yourself needing to be a bit bolshy when it comes to foundation shopping. It's far better to test as many foundations as you need to or make as many sorties to various cosmetic counters as necessary in order to secure the foundation best suited to you. Take your time. No need to settle for anything less than your perfect match. It's out there and will be so worth it in the end. Promise.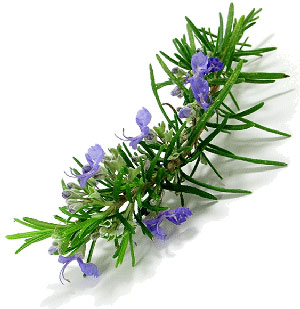 On this ANZAC Day, I shall spare a thought for the brave men and women of the armed forces who have served, risking all, for our country. Thank you.
Lest we forget the humble shrubby evergreen herb rosemary (Rosmarinus officinalis) as well. Rosemary is the symbol of remembrance commemorating ANZAC Day. Most of us are familiar with rosemary's culinary uses, and would have certainly seen sprigs of this herb worn on ANZAC Day, but are not as well acquainted with its aromatherapy uses in beauty. Rosemary can be used successfully in skincare as a highly effective treatment for dandruff, eczema, to encourage hair growth, to improve follicular stimulation, enhance blood circulation, and aid in the treatment of cellulite, just to name a few. Rosemary essential oil has many valuable and varied uses. In fact, its use in skincare, is just the beginning.
Rosemary is the key ingredient in "Hungary Water", the prized Eau de Cologne made in 1370. Hungary Water was named after Queen Elizabeth of Hungary, who claimed to have retained her beautiful appearance well into old age as a direct result of liberal use of this very early EDT. Hungary Water was not only prized as a fragrance, but as a great medicinal tonic used topically.
Here's Beauty Marked!'s version of Hungary Water. Mix all the ingredients together, decant into a sterilized glass bottle, and tightly cap. leave your Hungary Water to sit for 2 weeks or more to mature before use. Store away from direct light. Enjoy!
Hungary Water

30 drops of rosemary essential oil
12 drops of cold pressed lemon essential oil
5 drops of rose otto essential oil
5 drops of Neroli (if available) or cold pressed orange essential oil
2 drops of peppermint essential oil
150 mls of perfume grade ethanol or Vodka
50 mls of purified water
**pregnant women, individuals with high-blood pressure, and suffers of epilepsy should avoid use of rosemary essential oil. Essential oils should not be taken internally**
When you cleanse and moisturize, please don't forget your darling ears! Seriously, how many of us actually extend our facial cleanser and moisturizer to our ears? Ears have feelings too, you know, but most importantly they have skin. The skin on your ears can just as easily fall prey to dryness, eczema, breakouts, hyper pigmentation, or that other thing (touch wood). The skin on our ears can feel neglected, especially when they get treated like a second cousin or better yet, don't get treated at all. Perhaps because we don't actually see our ears much, it's kind of an "out of sight out of mind" kind of thing. I don't know why this is, but I do know that your ears will thank you for sparing a touch of your skincare goodness just for them. They particularly love a bit of sunblock too. I know, because they told me.