Real Dynamic Duos.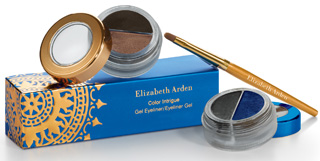 Just wanted to give you the heads up about a great LE collection being released in June 07, by Elizabeth Arden, called Cool Blue. Hot Bronze. The entire collection is exceptional, as we have come to expect from Elizabeth Arden, but the purpose of this post is to alert you to the two fantastic Color Intrigue Gel Eyeliner Duos only available for a short time in this collection. The Color Intrigue Gel Eyeliner Duos come in two colour combinations: Deep Brown/Hot Bronze and Black Sand/Blue Water. What's better is that each Duo comes with it's own natural haired eyeliner brush. They, perhaps, aren't the longest wearing gel eyeliners on the market, but are incredibly pigmented and will leave you with a great foundation for colour. What on earth am I on about you ask? Okay, let me break it down. The crisp bright colour you apply on its own will not last as initially applied, but it will deposit exceptional pigment that delivers a long lasting stain. So, if you wear this baby alone, you will be left with a nice even fade of color that is only reminiscent of the color first applied, but still very beautiful. So what's the point of that you say? The point of this, is that by the end of the day you will be left with a really comfy, water resistant, well worn liner that doesn't scream "just applied", but looks sultry and exceedingly enchanting. The stain does stay until removed.
Another cool thing about Elizabeth Arden Color Intrigue Gel Eyeliners is that they are so richly pigmented and apply so très smoothly that they make a killer base. After you apply the gel liners, go over the eyeliner with a corresponding powder eyeshadow to set. The Gel liner grabs hold of the powdered eye product and totally amps up both the colour and the dimension of both products. Simply scrumptious.
Deep Brown is nearly black but still brown. Hot Bronze is a red-free, finely milled shimmer of a true antiqued bronze. The shimmer does translate onto the lids and onto the stain as well. Black Sand is a flat black that smacks of charcoal and isn't harsh in the least. Blue water is a deep metallic lapis come cobalt that moves onto a gorgeous navy stain. The Color Intrigue Gel Eyeliner Duos have an ample total net weight of 5 grams. Do be sure to check out these beauties as with the complete LE Cool Blue. Hot Bronze. Collection, which is on counter from early June 2007.
No Comments
Be the first to comment!
Leave a Reply