I had to laugh at myself the other day. I went to learn about an Australian hair care range that has recently repackage all of their offerings and added a few other new bits and bobs to the range. So as part of the reintroduction to the range, they washed and blew dried my hair using various products and tools from the collection. So basically, it was just a meet and greet for my hair so to speak. All this to say, I was in the groove and pleased to learn about and experience the products (I think it was the fabbo head massage that really sucked me in) until the hairdresser said, "Okay, I'm done. I hope you like it."
My eyes bugged out of my head. Eep! "Done?", I said. Gulp. But as I was gaping at my reflection in the mirror, all I could see or rather couldn't see was NO part. Oh, my goodness. I have had a part in my hair for the better part of…well, let's say forever. Admittedly, my hair did look lovely, but I thought it would have suited someone else's head better. You know what I mean? Between you and me, I worried if I stood up from the chair, would I topple over or something, be consumed by a sort of strange waxy catatonia, or possibly loose my command of speech? These bizarre thoughts did race through my mind. Well I'm pleased to say that I was able to muster a gracious thank you for the hairdresser and make my way fleet-footedly out of the salon. Right. First stop: my car's rear-view mirror. After several deep breaths and few strategic shakes of my head a part returned. Phew. But oddly enough, it was not on my long standing right side, but on my left! What do ya know? As I was so pleased to see a part return, I didn't care in the slightest that it was on my left side. In fact, it really worked. For some reason, my hair seemed to gain a bit of height at the crown and looked quite fresh. Go figure? It was the wackiest thing. Tell me I'm not the only one to wonder about their fate if they ever changed sides or if they'd live to tell about it?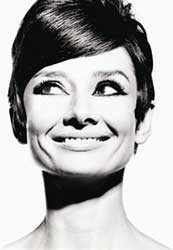 For attractive lips, speak words of kindness. For lovely eyes, seek out the good in people. For a slim figure, share your food with the hungry. For beautiful hair, let a child run his or her fingers through it once a day. - Audrey Hepburn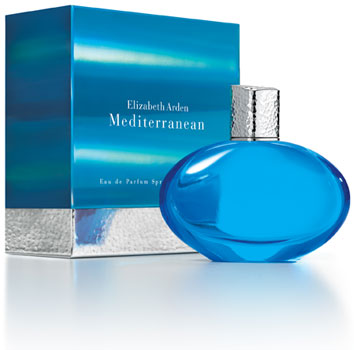 I have been getting compliments all day about my fragrance du jour. So many it was nearly embarrassing. I suspect the bit that was nearly embarrassing about it was that I was starting to wonder (read: get paranoid) if I was indeed the reason for such unabashed olfactory acclaim. Yes, I was wearing fragrance, this bit is true. I spritzed on a perfume of which I adore the crisp, ultra alluring scent of and that makes me feel much like the beautiful day that it has been today. It also reminds me of a glorious southern european holiday in the summertime. But I thought it was just me, me and my nose, to be precise. Little did I know, that by wearing the newest fragrance from Elizabeth Arden aptly named Mediterranean, that it was going to take so many others on what I thought was my very own little flight of fancy.
Mediterranean, by Elizabeth Arden is truly a captivating fragrance. Mediterranean was created for Elizabeth Arden by Quest International's Executive Perfumer, Claude Dir. His inspirations:
"Mediterranean was inspired by the joie de vivre (joy of living) of daily life in Capri and Sardinia that merges sunshine, clear blue sky and a warm ocean breeze that brings Mediterranean scents from the mountains to the hot sand.

I developed the fragrance to capture this ease of spirit and pure, natural beauty… I selected a combination of sensual florals and creamy woods, joining beauty and texture. The comfort and warmth of these textured woods, so subtle yet intense, became the signature character of the fragrance."
The top notes of this delectable fragrance are the sparkling radiance of peach nectar sorbet, Sicilian mandarins, and Damask plum. The mid notes are the unforgettable blooms of wisteria, star magnolia, and Madagascar orchid and the base notes are sandalwood, musk, and golden amber, all of which leave a glorious lasting impression.
The oval, cerulean blue, glass bottle is just beautiful in its simplicity, elegance and modern hammered silver cap. The Mediterranean collection is comprised of Eau de Parfum spray in 30 ml, 50 ml, and 100 ml and a 200 ml Body Lotion.
You can get your own little bit of the ever so captivating Mediterranean from all Elizabeth Arden counters and then you'll know for sure it's you!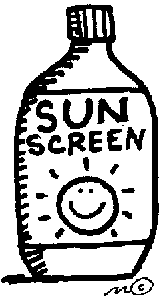 Just a little reminder that sunscreen is good stuff. Truly. Just think of its texture as liquid love. Okay, maybe greasy, goopy love, but love all the same. Sunscreen that protects against both UVA and UVB and no less than SPF 30 is always the go. It matters not if you prefer to wear it in your foundation, moisturizer, or neat but that you do wear it. Also, be sure to apply and reapply sunscreen liberally and regularly as that's key to ensuring its greatest effectiveness. After all, there's only one of your abundantly beautiful self and you owe it to the rest of us to make sure you keep it that way. Cool Bananas!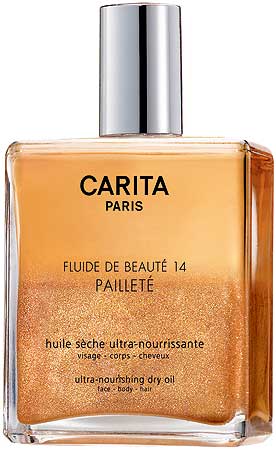 If we lived in an ideal/UV-free world, there would be just one product that one wouldn't want to be without and quite frankly only one product that one might just possibly need. This exceptional beauty product comes from the same place that legends are made of: La Maison De Beauté CARITA Paris. I'm talking the super luxurious CARITA Fluide De Beauté 14 Pailleté. Fluide De Beauté 14 Pailleté is an ultra-nourishing dry oil that is eagerly absorbed by the skin and hair leaving the most beguiling, subtle golden veil. This legendary potion not only nourishes the skin, but moisturizes and transforms it into its very supple best. The genuine gold glitters it generously contains, illuminate and beautify the skin. The fragrance of the unique CARITA Fluide De Beauté 14 Pailleté fragrance subsumes an ethereal mix of lemon, bergamot, orange, verbena, musk, and Lily of the Valley. It really doesn't get much better than this.
To enter into the beautiful world of CARITA visit www.carita.com or telephone (within Australia) 1800 808 993 and enjoy!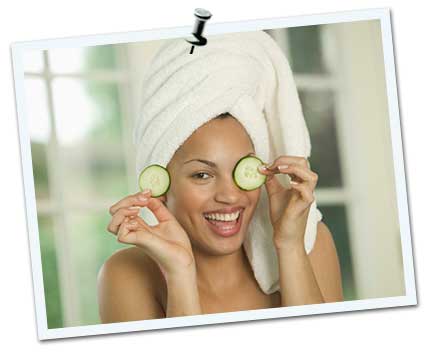 Yep, sliced cucumber actually does work a treat when applied to your puffy peepers. It looks gorgeously retro-fab too, if you ask me. Although much less glamourous, sliced potato will also do the job nicely. Who would of thunk it? It actually does pay not to eat your veggies sometimes. Do be sure to keep these nifty numbers up your sleeve (or perhaps in your crisper) for times when you're fresh out of your preferred potion and need to de-puff in a hurry.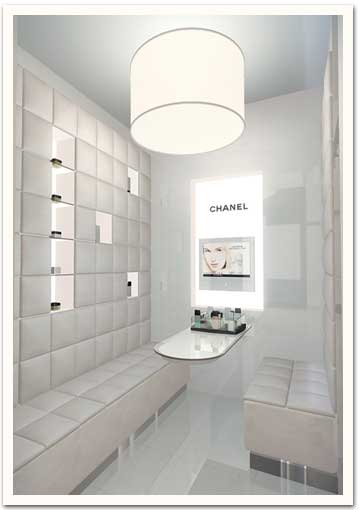 From October 08, 2007, in Sydney Australia, Bondi Junction Westfield, all doyens of beauty will be treated to the ultra luxe Chanel experience should they desire. Chanel will open an exclusive boutique showcasing the iconic brand's fragrance and beauty lines. The new Chanel Boutique will be capably staffed by Chanel fragrance, makeup, and skincare specialists. The boutique will also offer a range of expert services for clients who wish to experience the ultimate in Chanel pampering.
The menu of services range from Chanel Radiance, Skin Activating, Firming, Revitalizing or Brightening Facials to specialists treatments such as Micro-Dermabrasion Thermal, to Resurfacing and Deep Purifying treatments. All Chanel treatments are carried out in the Chanel Precision Cabine, which is privately located at the rear of the boutique. Prior to entering into the Chanel Precision Cabine, the client is given a skincare consultation and diagnosis in the secluded, luxurious skincare consultation area with its white quilted leather walls. How fabulous does this sound? No doubt, it will be even more fabulous to experience. It would, absolutely, suit you down to the ground. Utterly divine!

For all appointment bookings and enquiries please call 1300 CHANEL or email chanelbondi@chanel.com.au.