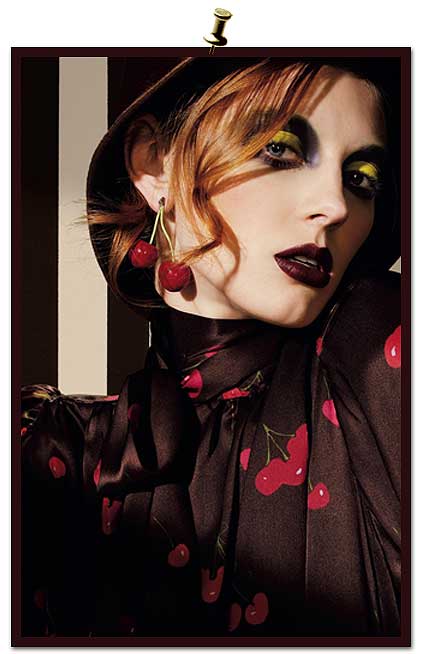 M.A.C.'s Cult of Cherry is luscious, dramatic, undeniably eroticized. Ripened lips, Spiced Hot Chocolate eyes or Illegal Purple nails, combine to seduce with a sweet-and-shock, way-to-go dark. Separates the bitter from the sweet. This drama just gets more delicious:
Lipstick

Crème Cerise Sheer yellow taupe (lustre)
Lightly Ripe Sheer mid-tone pink (lustre)
Russian Red Intense bluish red (matte)
"O" Intense purplish red with metallic gold (frost)
So Scarlet Clean grape burgundy (amplified)
Suggested Retail Price: $35.00 AUD

Lipglass

Cherry Blossom Sheer light pink with multi-dimensional pearl (frost)
Rich & Ripe Mid-tone pinkish red with multi-dimensional pearl (frost)
Cult of Cherry Clean red with red pearl (frost)
Liqueur Neutral brownish mauve with multi-dimensional pearl (frost)
Jampacked Sheer grape with multi-dimensional pearl (frost)
Suggested Retail Price: $34.00 AUD

MATTENE Lip

Rapturous Deep berry red (matte)
Kirsch Blackened cranberry (matte)
Chock-ful Blackened brown (matte)
Bing Blackened eggplant (matte)
Suggested Retail Price: $36.00 AUD

Powder Blush

Blooming Frosted deep dirty peach (frost)
Plum de Bois Frosted deep pink bronze with gold pearl (frost)
Suggested Retail Price: $40.00 AUD

Nail

Silverstruck Frosty greyed taupe with multi-dimensional pearl (frost)
Illegal Purple Creamy blackened eggplant (cream)
Suggested Retail Price: $22.00 AUD

Zoom Lash

Zoom black Rich black
Suggested Retail Price: $25.00 AUD

Eyeshadow Quads

Spiced Chocolate

Nanogold Sheer yellow pink with pink pearl (frost)
Brash Frosty reddish copper (vxp)
Spiced Chocolate dirty deep reddish brown (matte)
Sweet Chestnut Frosted cranberry (frost)
Suggested Retail Price: $72.00 AUD

Tempting

Next to Nothing Sheer yellow beige with pink pearl (frost)
Sharp Frosty bright yellow gold (satin)
Dark Edge Dirty chocolate brown (satin)
Tempting Rich coco (lustre)
Suggested Retail Price: $72.00 AUD

Shadowy Lady

Light Fall Dirty light pink (satin)
Smudge Violet Frosty blackened lavender with multi-dimensional pearl (frost)
Deep Truth Very dark blue (frost)
Shadowy Lady darkly veiled plum (matte)
Suggested Retail Price: $72.00 AUD
Cult of Cherry from M·A·C is available in Australia from 8th September, 2008 at all M·A·C locations. New members welcome *
*But, um…maybe don't drink the Kool-Aid.
Hi BM!

What do you reckon about eyelash curlers? Are they really all that necessary? Looking forward to reading your thoughts. Thanks.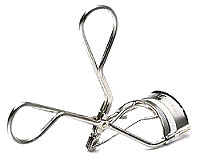 Oddly enough, I can not seem to find my eyelash curler for love nor money at the moment. I suspect it might have something to do with the ram-raid my 20 month old daughter did on my cosmetics wardrobe a week ago. Hmmm. On initial inspection, post ram-raid, I thought the damage was limited to only few cream blushes, an eyeshadow brush, and a couple of gel eyeliners….but upon the real rude awakening, which came a few days later, when attending to a full face (mine), I could not find my beloved Shu Curler that had been, on the quiet, both faithfully and capably called to service darn near daily. Gasp! So I was left to improvise and trust me, while the finger pressure on mascaraed lashes for about 30 seconds might be the go on a dessert island when you are forced to go without, but when you're not, the old finger ain't a patch on an eyelash curler. In its terribly missed absence, I now realize that my eyelash curler is a bit of an unsung hero, in fact. So to make a short story longer…yes, I do rather think they are necessary and work quite a ways at expertly opening the eye while giving you a more alluring and curvaceous look to your lashes and overall makeup look, absolutely.
Now, I'm off to find my long lost stellar beauty and if I can't, I'm calling in the troops to round up another. *sings woefully* Oh where, Oh where has my eyelash curler gone? Oh where, Oh where can she be?…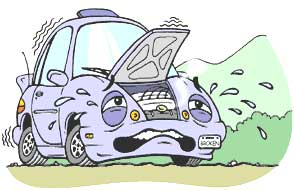 I often get asked if it is really necessary to remove all of one's makeup from the day's adventures if you are going out for the evening and still wish to wear makeup. To be honest, I don't feel it is always 100% necessary to remove all of your makeup and cleanse, but if you've got the time and energy…go for it! If not, this is when I'd go "the breakdown". Breakdown the bits of your makeup that are looking a bit battle weary and blot, perhaps powder and reapply. This treatment, of course, doesn't really extend to mascara as that's a whole other kettle of fish altogether.
So for everything non-mascara related, just lightly remove or take back by gingerly wiping off with a tissue and or cotton bud. When you've done this ever-so-gently, blot your entire face (t-zone especially) with cosmetic blotting paper or film. *whispers* One square of single-ply, super cheap loo paper works fantastically by the way. After you've blotted away any excess oil or perspiration that would have naturally managed to creep to the skin's surface after a day's wear, just barely powder your entire face (loose or pressed powder is fine). When you've finished your 'barely there' powder, feel free to reapply your makeup to your beautiful heart's content.
Carefully breaking down your makeup, blotting, lightly powdering, and reapplying will often give you a nicer looking and longer wearing base for your colour cosmetics than would freshly applied. Go figure? I suspect it has a lot to do with the artful building up of makeup and removing the excess oils, which leave mainly pure pigment behind. (Much like the Beauty Marked! technique for getting your lip to stick.) But don't be tempted to skip the blot step, because it's the buildup of oils that actually cause the cakey and flakey thing to happen, which is definitely not the effect we're after. It's now, after I've done the above, that I adore a quick and ultra indulgent spritz of rose water. Quite frankly, I can't think of a better and more luxe way to set my makeup. Mmmm.
Now on to the matter of mascara. You know, generally, I am tempted to just leave it alone. I rarely reapply new over old, as that just seems to tempt fate, especially where the potential for clumping and flaking is concerned. But if you reckon there's only a weensy bit or no bit on, then by all means reapply. Just be extra vigilant for clumps and ensure the lashes stay separated. You can carefully re-curl your lashes with a non clamp-style curler if you've got one. If not…use your finger to gently press the lashes towards your lid and hold for about 30 seconds or so before the mascara is dry. Sometimes the finger trick works so well that I often wonder why I bother searching for my curler in the first place, which, oddly enough, always seems to grow legs…especially when I'm in a rush.
So there you have it: Times when a breakdown might just be a good thing. Ultimately though, the most important thing of all to remember is to blot and don't stress…because you're beautiful!

We consider it our beauty civic duty to let you know that there's still time to enter for a chance to win all these bits of exquisite gorgeousness, but you've got to get cracking!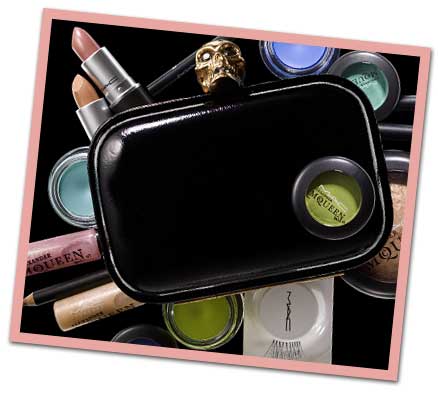 WHO: M.A.C Cosmetics and Net-A-Porter
WHAT: M.A.C for McQueen online competition - No purchase necessary!
MAC and NET-A-PORTER.COM add magic to your Fall with this bewitching combo: The MAC for McQueen collection plus the Alexander McQueen patent leather, suede-lined, mini box-clutch with crystal-jeweled skull clasp.
Approximate total retail value: $1,500 AUD!
WHEN: October 29 to December 08, 2007
WHERE: www.maccosmetics.com.au/mcqueen

Enough said? Good Luck!
-BM! xx
I know that many of you are big fans of mineral makeup, but a few may not of had the opportunity to make a foray into minerals as yet, so let's see if we can inspire those who haven't with a little challenge. Seeing that we've declared today as Mineral Makeup Monday, why not create a face with at least one item of mineral makeup and build your gorgeous look on that? Hey…you may even be able to swing a complete look based on several beaut mineral bits and bobs, if you're lucky, and really get to experience the true magic of minerals in all their glory. You'll love it!
…Just a few luxe offerings to get you going: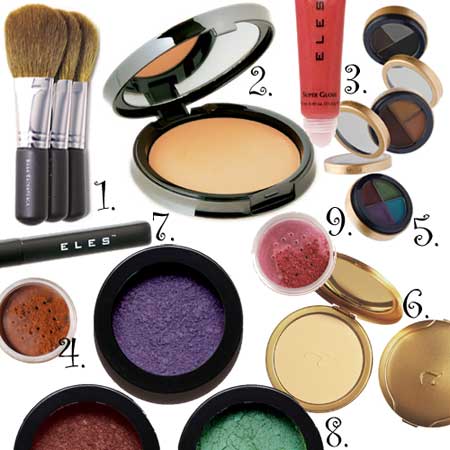 1. i.d Bare Escentuals Flawless Face Brush 2. ELES Mineral Foundation 3. ELES Super Gloss 4. i.d. BareMinerals Warm Radiance 5. Jane Iredale Cream To Powder Eyeliner 6. Jane Iredale PurePressed® Base 7. ELES Lush Mascara 8. INIKA Mineral Eyeshadows 9. i.d. BareMinerals in Glee.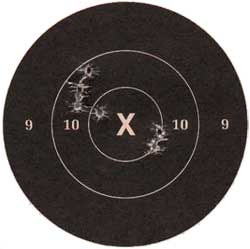 I'm thinking eyes that are packing pure, smoked-out, shimmery gorgeousness for the evening's festivities. What do you think? Maybe a goer for tonight's makeup look? Here's a few product suggestions to get you going:
M.A.C. Paint Pot in Blackground to eyelid as a base, M.A.C. Blue Brown Pigment to set and blended fabulously up to the crease. M.A.C. Club pressed eye shadow to crease and outer V. M.A.C. Vex pressed eyeshadow lightly applied as brow highlight and blended impeccably. Black gel or kohl eyeliner to water and tightlines for both upper and lower lash lines. Finish off with the requisite lashings of black mascara on celestially curled lashes.
The what's next…
Groomed brows, cheeks that are very much a supporting act for those killer eyes and a low maintenance lip that is lightly stained and slicked with a YLBB (your lips but better) nude. C'est tout. Just prepare to slay 'em!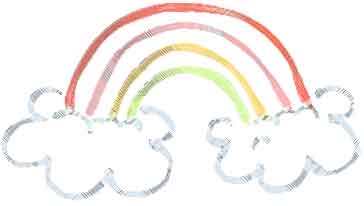 I'm willing to bet that if you were to add just a bit of colour to your day it would not only brighten your nature, but also boost your energy levels as well as those around you. I'm thinking something along the lines of a non-neutral bit of lip colour, vibrantly lined eyes, a flutter or three of coloured mascara caressed lashes, or blushed cheeks that are the hallmark of a true blooming beauty. Whatever you fancy, as just a wee bit of colour to pop is all that's needed. So what do ya say? Go on…make our day!