Just a weeny update to say that Get Even More Gorgeous With Beauty Marked!® blog is not 100% just yet, but it's on the road. So, fingers crossed, it shouldn't be long. We're aiming for things to be right by tomorrow, latest. It's a pity I wasn't gifted with technical expertise where all things internet are concerned, but rest assured, I not only use all the brains I have, but those that I can borrow!

BM! xx
Eep! I think my blog is broken. *cry* I did some fiddling around with the site yesterday (when will I learn?) and may have broken my cherished blog. What The? Not a single image from the last week or so is visible. *sob* So I'll have to get that sorted ASAP. Fingers crossed it won't be long before we are cooking with gas again! Wish me luck!
-Beauty Marked! xx
This Friday kicks off a week of birthday celebrations in the Beauty Marked!® household. We have three birthdays within the next seven days. So in efforts to pick up a few last minute clothing bits and bobs for the wee ones welcoming in a new year of life, I ran into my local Target store, as you do. Low and behold, I was hit by several large photographic murals of smiling kids either cuddling up to the Target logo like it was the most cherished of teddy bears or the coolest toy ever, along a couple of the main outer walls. At first glance, the images were cute, quasi-benign, and perhaps a little cheeky, but on second look…*my eyes bug out*…Outrageous! The little girls, we're talking maybe 6 or 7 years old, were wearing more makeup than I do, even on my full face days! Uber glossy, nearly dripping cherry red lips, cheeks sporting the flush of a fallen angel, and eyelashes complete with lashings of the inkiest mascara. And yes, I saw you too, smudgy eyeliner, along the lower lashline! My goodness, what is this world coming too? You've got to go and check it out and tell me if you noticed it too. For once in my life, I'll be glad to learn that I've just imagined it. I suspect though, that it wasn't me, this time, that has lost her mind. So wrong.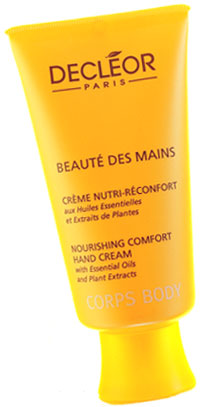 I couldn't pass up an opportunity to tell you about the gorgeous hand cream I am so into at the moment: Decléor Beauté Des Mains Nourishing Comforting Hand Cream. This divine golden tube of goodness is positively packed with essential oils, plant and marine extracts, which work fabulously together to soothe and protect the hands all day long. Beauté Des Mains contains both nourishing and anti-aging ingredients like shea butter, Prairie Pearl Oil, Pro-vitamin B, parsley extract and cypress essential oil, meadow foam oil, and ester of Vitamin E. Decléor Beauté Des Mains Nourishing Comforting Hand Cream doesn't leave your hands greasy due to its light, yet effective, texture. This is, absolutely, a gorgeous little number to keep on hand. *pun intended*
Decléor Beauté Des Mains Nourishing Comforting Hand Cream is available from leading beauty salons, day spas and selected department stores. Visit True Solutions for more information on this little French beauty and much, much more!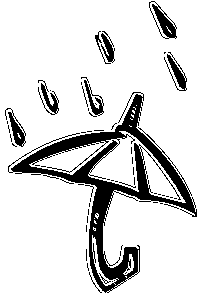 I'm talking wet weather makeup gear. I don't know about in your neck of the woods, but in mine, we've been having wonderful weather… wonderful weather for ducks, that is. Wet, windy, cold and wild. Blustery, precipitous weather is absolutely no excuse to abandon the makeup ship. Just be sure to grab and apply your favourite waterproof mascara, long wearing gel eyeliner, cream blush, and super emollient lippie before stepping out and you'll be sweet. As long as you batten down the hatches with these staples on, you can build on top of them and be assured to come out the other end of all the weather about still looking fab. Plus, I always reckon that if I can maintain the makeup magic, no one will notice the havoc the elements are clearly reaping on my hair!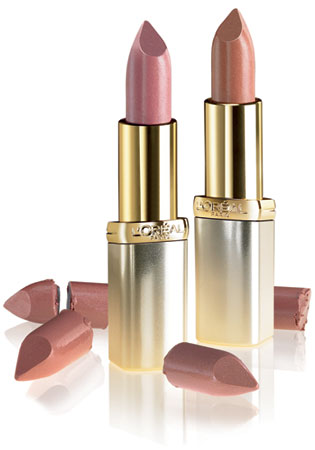 L'Oréal Paris had wowed us once again with the August 2007 launch of the new Colour Riche Made for Me Naturals lipstick. L'Oréal Paris Colour Riche Made for Me Naturals are a collection of 12 nude shades designed to maximize the beauty of each and every woman. L'Oréal has even gone a step further than just stating the claim that the new natural shades are created just for you and have, in fact, developed nude lipstick colours to compliment the gorgeous variety of hair and skin colouring that abound. Made for Me Naturals range of lipsticks come in a selection of colours to suit everyone from blondes to brunettes, porcelain skin to darker skin.
According to James Kaliardos, L'Oréal Paris Makeup Artist Designer,
"Nude lips are all about a clean look, perfect for any occasion. A flawless complexion, impeccably groomed brows and glossy black lashes…neutral but far from dull!"
to blondes…
For blondes, nude flirts with a rosy pink, bringing out the healthy radiance of fair complexions.
From women with light-brown hair…
For women with light-brown hair, nude shades are with hints of powdered pink, boosted by a fresh, radiantly iridescent edge.
To women with chestnut-brown hair…
For women with chestnut-brown hair, nudes have a hint of mauve, softened and brought up-to-date by mother-of-pearl, for an effect that blends with the chestnut tones in the hair to truly light up the complexion.
From darker skin…
For women with darker skin, nude shades are warmed up by caramel, honey and ginger notes, with a little pink and gold to illuminate and warm up darker complexions.
To porcelain complexions…
For women with porcelain complexions, nudes comes with a touch of pink and a dash of apricot to deliciously light up very pale complexions and boost the radiance of Asian skin and porcelain complexions.
L'Oréal Paris Colour Riche Made for Me Naturals possess the exceptional formula for which L'Oréal Paris is known. Omega-3 oils and Vitamin E are present to prevent the lips from drying out and the lipsticks creamy texture leaves the lips moisturized and smooth. Plus, who could resist the elegantly designed satin-gold case? It's gorgeous all-round. L'Oréal Paris Colour Riche Made for Me Naturals are exactly how nudes should be done. Just stellar!
Sunscreen. SUNSCREEN. sunSCREEN. SUNscreen. SuNScreen. SuNsCrEeN. Sunscreen. Sunscreen. suNScreEn. SunscReen. SunScreen. Sunscreen applied regularly and liberally, each and every day, rain, hail or shine, indoors or out. Sunscreen used in this way that is of a quality formulation with ingredients that are specifically effective against UVA and UVB rays will be your "Numero Uno" weapon against fighting the signs of aging. Promise.