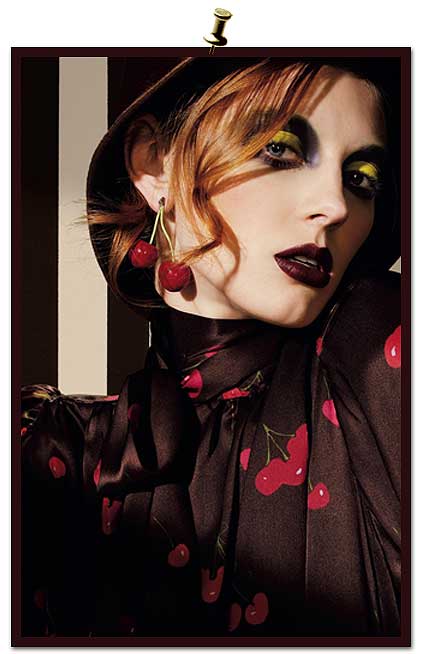 M.A.C.'s Cult of Cherry is luscious, dramatic, undeniably eroticized. Ripened lips, Spiced Hot Chocolate eyes or Illegal Purple nails, combine to seduce with a sweet-and-shock, way-to-go dark. Separates the bitter from the sweet. This drama just gets more delicious:
Lipstick

Crème Cerise Sheer yellow taupe (lustre)
Lightly Ripe Sheer mid-tone pink (lustre)
Russian Red Intense bluish red (matte)
"O" Intense purplish red with metallic gold (frost)
So Scarlet Clean grape burgundy (amplified)
Suggested Retail Price: $35.00 AUD

Lipglass

Cherry Blossom Sheer light pink with multi-dimensional pearl (frost)
Rich & Ripe Mid-tone pinkish red with multi-dimensional pearl (frost)
Cult of Cherry Clean red with red pearl (frost)
Liqueur Neutral brownish mauve with multi-dimensional pearl (frost)
Jampacked Sheer grape with multi-dimensional pearl (frost)
Suggested Retail Price: $34.00 AUD

MATTENE Lip

Rapturous Deep berry red (matte)
Kirsch Blackened cranberry (matte)
Chock-ful Blackened brown (matte)
Bing Blackened eggplant (matte)
Suggested Retail Price: $36.00 AUD

Powder Blush

Blooming Frosted deep dirty peach (frost)
Plum de Bois Frosted deep pink bronze with gold pearl (frost)
Suggested Retail Price: $40.00 AUD

Nail

Silverstruck Frosty greyed taupe with multi-dimensional pearl (frost)
Illegal Purple Creamy blackened eggplant (cream)
Suggested Retail Price: $22.00 AUD

Zoom Lash

Zoom black Rich black
Suggested Retail Price: $25.00 AUD

Eyeshadow Quads

Spiced Chocolate

Nanogold Sheer yellow pink with pink pearl (frost)
Brash Frosty reddish copper (vxp)
Spiced Chocolate dirty deep reddish brown (matte)
Sweet Chestnut Frosted cranberry (frost)
Suggested Retail Price: $72.00 AUD

Tempting

Next to Nothing Sheer yellow beige with pink pearl (frost)
Sharp Frosty bright yellow gold (satin)
Dark Edge Dirty chocolate brown (satin)
Tempting Rich coco (lustre)
Suggested Retail Price: $72.00 AUD

Shadowy Lady

Light Fall Dirty light pink (satin)
Smudge Violet Frosty blackened lavender with multi-dimensional pearl (frost)
Deep Truth Very dark blue (frost)
Shadowy Lady darkly veiled plum (matte)
Suggested Retail Price: $72.00 AUD
Cult of Cherry from M·A·C is available in Australia from 8th September, 2008 at all M·A·C locations. New members welcome *
*But, um…maybe don't drink the Kool-Aid.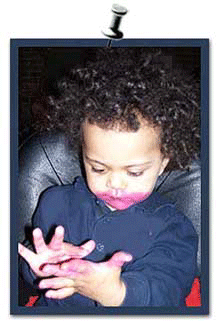 A Makeup Maven-In-The-Making? A poster child for "The Bring Back The Manically Overdrawn Lip" brigade? An avant-garde makeup muse? Who knows? But what I do know is that this little Beauty Marked! jongleur most certainly has a penchant for the pricier, more pigmented lip, that's for sure. Yep, that's exactly what a high-end fuchsia lip looks like on a Cheeky Caramel Cutie…just in case you were wondering.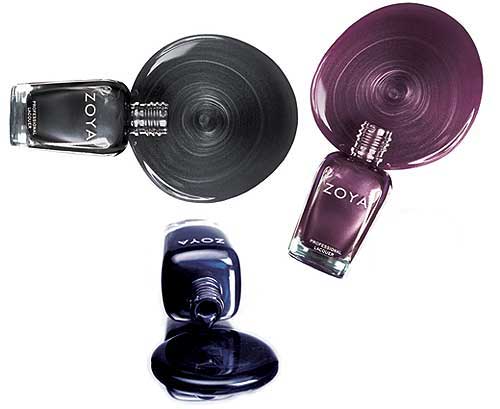 One of my favourite autumnal treats is to store my bubbly and bright or pretty and pastel nail polishes, much adored during the warmer months, and ready my digits for the deliciously dark and daringly delightful polish colours much coveted and ever-so-couture when worn in the colder months. Again, this autumn and winter fashion season sees the ravishing return of gloriously urbane nails in deeper, super pigmented, and trend-setting hues. Beauty Marked! has kicked off the season with the Limited Edition Downtown Collection from Zoya. Do be sure to check out these edgy beauties on your travels as you continue on your journey to great style.
The LE Downtown Collection:
Freja gunmetal grey metallic (pictured)
Indigo deep indigo with starry metallic flecks (pictured)
Kotori glittering aqua-metallic
Suvi deep green metallic
Rea amethyst metallic (pictured)
Lael eggplant purple cream
Zoya's trendy Downtown Collection is available in fine salons and spas nationally. Telephone 1300 855 644 for stockist details. Too hip!
Wondering why I have been MIA? Well…I have, absolutely, been seemingly AWOL due to LN to gather some TIGER from RAFW and the MBS in Sydney. What a week! So much beauty it nearly hurts. So, those of us at Chez Beauty Marked! will be joyously doing the requisite SIF++ for your radiant pleasure. BM! will BRB with MI, FOTDs and other ASSTD bits of gorgeousness just for YOU! Promise.
Anon xx
MIA Missing In Action
AWOL Away Without Official Leave
LN administrative leave
TIGER Tactical Intelligence Gathering Relay
RAFW Rosemount Australian Fashion Week
MBS Mind Body Spirit Festival
SIF++ Security Information File processed for compiling into data bases
BM! Beauty Marked!
BRB Be Right Back
MI Motivational Interviews
FOTD Face Of The Day
ASSTD assorted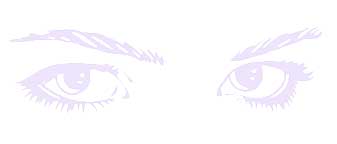 I have received a few emails of late asking about some of the many makeup placement terms used when describing the whereabouts and the why for of eye makeup artistry, which instantly reminded me of a Beauty Marked! post of yore that may just do the trick when it comes to explaining some of the terms often bantered about when it comes to all things eye makeup: If You're Going To Walk The Walk. Hope this helps a bit when your talking your beautiFULL talk.
-BM! x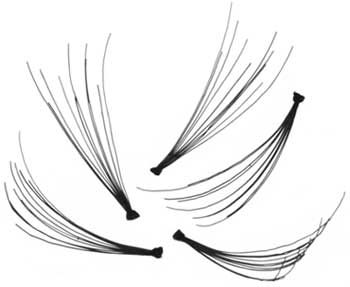 Eylure Individual Lashes are here to make your wish for lovely long lasting flutterbies come true. Beauty Marked! is just smitten with Eylure's longer lasting faux lashes. Not only will your lashline look fuller and gorgeously glam for the day or evening, but up to 3 to 4 weeks with Eylure Individual Lashes! Eylure Individual Lashes come in a pack with 17 each of short, medium, and long individual eyelash bundles, with both glue and remover included inside. What's better is that Eylure Individual Lashes are easy to apply and gracefully accentuate your lashline, while beautifully opening up the eye area.
Eylure Individual Lashes are safe for contact lens wearers and are reusable with proper cleansing and care. By simply and strategically placing a few lashes (or as many as you like really) along the outer end of your natural lashline with the long or medium (depending on preference) faux lashes towards the outer (near the ear) end of your lashline and then place a bundle of the the smaller lashes spaced slightly further down heading towards the outer midline of your eye and you're are assured to have va Va VA VOOM lashes in no time. With your Eylure Individual Lashes on, prepare to stop them adoringly in their tracks…as you do.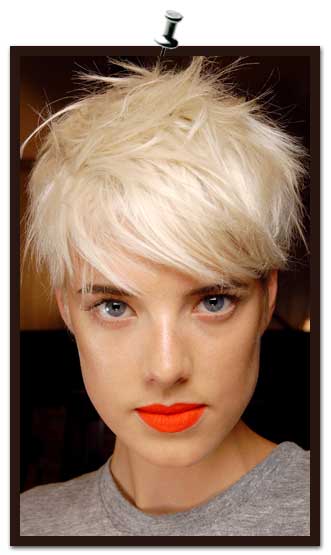 Now when Beauty Marked! recommends to "Go the Bold" lip, this is exactly what we mean (as photographed). This arrestingly beautiful and ultra bold lip, courtesy of M.A.C. for Temperly SS08, is just what we are talking about! The trend this spring/summer season is all about picking only one of your many best features and totally showing that one bit of gorgeousness off.
"A bright lip defines the tendency to just identify one element in the makeup this season- it's all about paring the face back to just one feature. For a switch in attitude from last season, the new bright lip is more attitudinal than luxurious. I'm really into setting a bright lip against a sheeny skin which makes it feel fresh, sporty, and modern." -Charlotte Tilbury
We are loving the Loud Mouth…without a doubt!
*Image courtesy of M.A.C. and may not be reproduced without permission. Thanks!