Downtown Delights.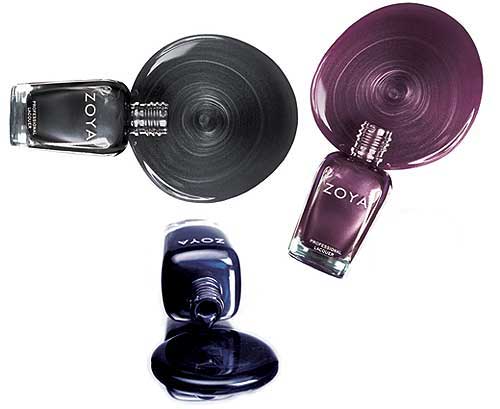 One of my favourite autumnal treats is to store my bubbly and bright or pretty and pastel nail polishes, much adored during the warmer months, and ready my digits for the deliciously dark and daringly delightful polish colours much coveted and ever-so-couture when worn in the colder months. Again, this autumn and winter fashion season sees the ravishing return of gloriously urbane nails in deeper, super pigmented, and trend-setting hues. Beauty Marked! has kicked off the season with the Limited Edition Downtown Collection from Zoya. Do be sure to check out these edgy beauties on your travels as you continue on your journey to great style.
The LE Downtown Collection:
Freja gunmetal grey metallic (pictured)
Indigo deep indigo with starry metallic flecks (pictured)
Kotori glittering aqua-metallic
Suvi deep green metallic
Rea amethyst metallic (pictured)
Lael eggplant purple cream
Zoya's trendy Downtown Collection is available in fine salons and spas nationally. Telephone 1300 855 644 for stockist details. Too hip!
No Comments
Be the first to comment!
Leave a Reply