Wynn's Over Lice™! No, not really, but wouldn't that be grand? We reckon that if there ever was a category for best scratch or three in a YouTube video, Wynn's would be a shoe-in. Even though Wynn's Over Lice™ takes getting rid of head lice very seriously, it doesn't mean we can't have fun while we are doing it. Do check out the current series of three, fun, 1 minute videos that are sure to generate a scratch and a giggle or more. They're totally fun!
If you enjoy these fun videos as we are sure you will, Wynn's would be delighted if you'd like them and or leave comment. Wynn's Over Lice™ is also on Twitter and Facebook too. Thanks! x
Hello Beauties!
I know it has been donkey's years since I've posted on my blog. Oh, the shame! I haven't been 100% AWOL though, it's more like 98.7%. As I have been gleefully working away doing all the beauty-FULL stuff that I love, but just in different guises. My latest adventure has been to finally get around to bottling a really wonderful all natural, exceedingly effective, Australian made head lice treatment that not only gets rid of head lice, but leaves you with really amazing hair!
As many of you would know, I have a gorgeous tribe of children, seven delightful cherubs to be exact. And more to the point, they have ALL been blessed with some of the thickest, longest, most delectably curly hair you can get, which while at primary school, has proven to be the perfect head lice magnet imaginable. Talk about mixed blessings. Sigh. So, seeing that their hair is such a nit-magnet, I have had plenty to do with getting rid of those often itchy nuisances, sadly. I've tried much of the products available on the market, just short of Napalm, and never really got wholly satisfactory results.
Seeing that necessity is the mother of invention, I made some kick butt hair stuff myself. The really cool aspect about developing a head lice product yourself and living and breathing all things beauty as I do, was that I was able to source and then create a treatment that uses the most top shelf ingredients available, that works and delivers great, head lice-free hair. So without further ado, it is my complete pleasure to introduce you to Wynn's Over Lice™.
Wynn's Over Lice™, quite naturally…does great hair!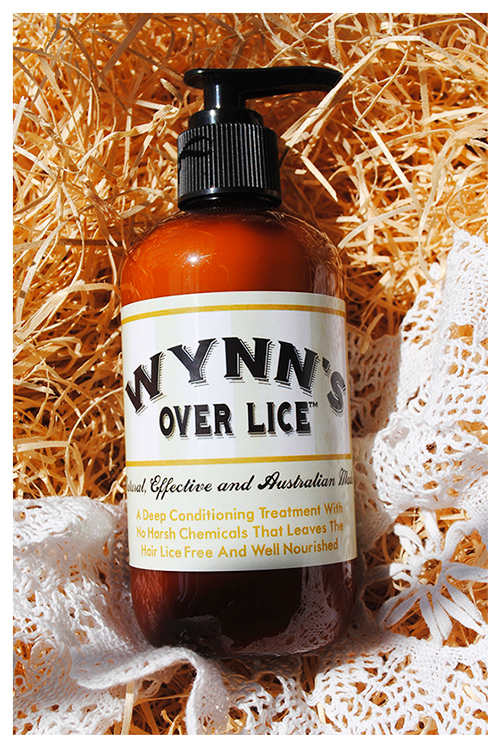 Do visit our Wynn's Over Lice™ website for even more details. We also have a Facebook page too, and you can follow us on Twitter as well. We've even made a couple of fun, 1 minute youtube videos that you should definitely watch if you're up for a scratch and a giggle or three. I'll be back to list those soon. Promise!
Gosh, is it ever so lovely to be back. But most importantly though, thank you so very much for dusting off our Get Even More Gorgeous With Beauty Marked! URL and coming by for a visit. You've totally made my day!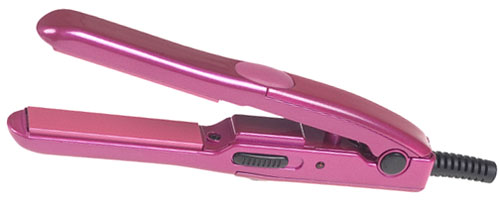 Beauty Marked! has had this little pocket rocket a while now and has been just too tickled pink with the results to put it down long enough to write about it. Tragic but true. BaBylissPRO Mighty Mini Straightener is the niftiest "little" beauty I have seen in the straightening game that actually delivers "big" on results. BaBylissPro Mighty Mini Straightener produces the same maxi results of a full sized iron and is mini only in its size. The Mighty Mini Straightener is 15 cm long and offers narrow plates that allow you to effectively straighten closer to the scalp while maximizing the advantages of far-infrared heat for optimal straightening. The BaByliss Mighty Mini quickly heats up to temperatures of 210? and with its Advanced Surround Heat and ceramic/titanium plates, it effortlessly glides through the hair to create seriously straight strands, super tight curls, sumptuous waves, and flirty flicks. This purse-sized dual-voltage dynamo is perfect for travel and is available in metallic pink (as pictured), blue, hi-gloss red, and raven black.
Talk about a most definitely excellent styling appliance for tending to those little running repairs often needed to tantalizingly tweak our tresses throughout the day, but is generally not possible due to the behemoth size and lack of portability of most straightening irons. This is a fab find for the fellas too by the way. Beauty Marked! also loves to call this natty styling tool to duty for the times when you need to extend your salon styled quoif just a bit longer until your next booked visit. *idea*
BaBylissPRO Mighty Mini Straightener and so much more are available from Dateline City. Do check it out. We just adore it!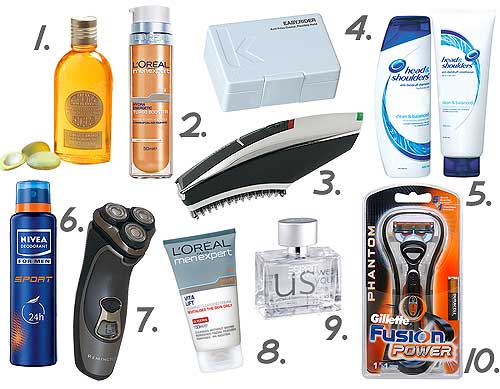 Lest we forget the fabulous fellas in our lives. In honour of our boys, Beauty Marked! has put together ten totally terrific bits of blokey beauty that are sure to keep our guys gorgeously groomed. Beauty Marked!'s Galerie de Toilettage contains an all star assemblage of grooming gear especially chosen to keep our men majestically and ever so masculinely manscaped…Just like we like!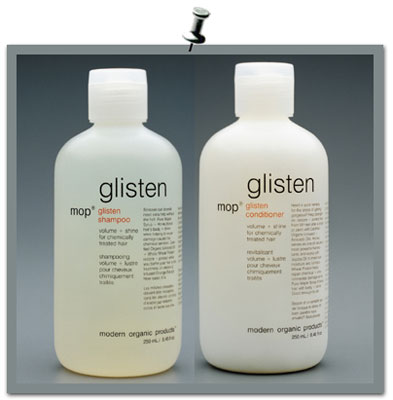 Nearly good enough to be served with ice cream and absolutely in fashion are tresses treated to MOP® Glisten Shampoo and Conditioner. Modern Organic Product (MOP®) has developed a lovely shampoo and conditioner made from organic and fab everyday ingredients to add volume and shine to your daily hair care routine. MOP® Glisten Shampoo and Conditioner are so very mildly citrus scented and are big on bonza ingredients.
Glisten Shampoo contains pure maple syrup and the powerful humectant honey to add enviable body and shine to the hair. Certified organic linseed oil and whole wheat protein make light work of restoring and protecting the hair, while the vitamin C infused orange extract gets on with effectively cleansing your alluring locks.
Glisten Conditioner works to mend hair that may be feeling the strain of chemical treatments and nuisance UV rays. MOP® Glisten Conditioner has been specially designed to strengthen, restore and protect the hair through its stellar ingredient lineup: Certified organic linseed oil, jojoba, and avocado oil are also joined by honey and wheat protein, in repairing chemical and environmental damage, while pure maple syrup gets busy amping up the body and shine.
MOP® Glisten Shampoo and Conditioner is a deliciously effective and unadulteratedly easy way to ensure your treasured tresses remain fabulously fit and as ravishingly radiant as you are! What? After all, it's not like you don't deserve it.
Visit MOP® online for more on modern, hip, and happening hair!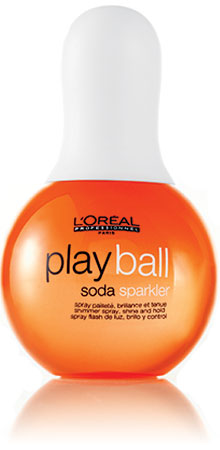 L'Oréal Professionnel introduced four new Play Ball sprays to their techno-inspired, ergonomically designed, sensorial styling portfolio. Even though all the new Play Ball sprays are pretty fab, Beauty Marked! is especially smitten with the new Soda Sparkler spray by L'Oréal Professionnel. Now this bit of fun delivers a detectible shine that's gorgeously paired with an uber finely-milled sparkle that can be rocked both day and night. Soda Sparkler is sure to tantalize your tresses (and your fans) with this glamorously glittery cocktail that delivers a natural hold and a defined texture.
The other MVPs in this game are:
Cosmo Spritzer An extra-strong hold spray used to combat frizz and to deliver a smooth, shiny and secure style.
Silky Sunrise A spray-on-serum for smoothness, softness, shine, and a silky texture.
Texture Tonic A texturizing spray for hold and volume that gives that "just left the beach" look.
The entire Play Ball team is available from L'Oréal Professionnel Salons and select retailers nationwide. The game is definitely on now.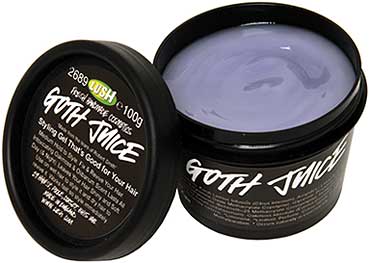 LUSH has come up with The Cure for winsomely wayward locks that are really into a medium-hold hair gel that gives rockin' cruelty-free style. Goth Juice by LUSH is a styling gel that holds and adds shine to the hair without drying it out. LUSH Goth Juice is positively loaded with mineral-rich hemp oil, flaxseed oil and fresh lemon infusion all of which make for an awesome High shine. Oak moss and olibanum give Goth Juice its intoxicating scent which lingers. After Goth Juice, which is Never Enough, all you'll need is the smeared (okay maybe not smeared) red lipstick and everything will be Just Like Heaven. We love that LUSH goes there!