Mineral Makeup Monday!
I know that many of you are big fans of mineral makeup, but a few may not of had the opportunity to make a foray into minerals as yet, so let's see if we can inspire those who haven't with a little challenge. Seeing that we've declared today as Mineral Makeup Monday, why not create a face with at least one item of mineral makeup and build your gorgeous look on that? Hey…you may even be able to swing a complete look based on several beaut mineral bits and bobs, if you're lucky, and really get to experience the true magic of minerals in all their glory. You'll love it!
…Just a few luxe offerings to get you going: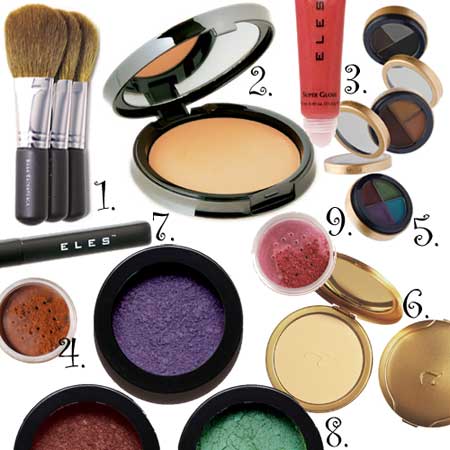 1. i.d Bare Escentuals Flawless Face Brush 2. ELES Mineral Foundation 3. ELES Super Gloss 4. i.d. BareMinerals Warm Radiance 5. Jane Iredale Cream To Powder Eyeliner 6. Jane Iredale PurePressed® Base 7. ELES Lush Mascara 8. INIKA Mineral Eyeshadows 9. i.d. BareMinerals in Glee.
One Comment
Leave a Reply