The Miraculous Magic Of Beautiful Blossoms.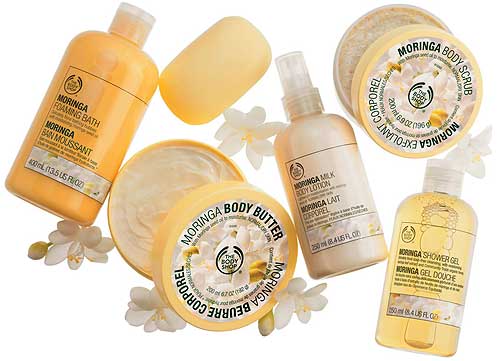 The Body Shop treats us, once again, to the magical miracles of nature as harnessed in the new Moringa Bath & Body range. The Moringa Bath & Body range is The Body Shop's newest offering and the first floral member across their vast and considerate product array. This fragrant and highly moisturizing collection consists of 6 products featuring Moringa seed oil.
"First used in Ayurvedic medicine some 4,000 years ago, Moringa seed oil comes from the Moringa tree, which is also known as the "miracle tree" due to its wide variety of beneficial uses. The Moringa tree provides 7 times the Vitamin C in oranges, 4 times the calcium and 2 times the protein in milk, 4 times the Vitamin A in carrots and 3 times the potassium as bananas. Moringa seed oil contains high levels of oleic acid, which is a fatty acid that helps to restore the skin's moisture levels, protects against drying and keeps the skin feeling soft and smooth. The oil was highly treasured by the ancient Roman, Greek, and Egyptian civilizations for use in protecting skin and making perfume. It was so good, that they even used it to create their own skin-smoothing product."
Furthermore, according to folks at The Body Shop, they just couldn't pass up the opportunity to use the miraculously moisturizing and nourishing benefits found in Moringa seed oil, hence the Moringa Bath & Body range was born. The Body Shop uses only the finest Community Trade Moringa seed oil and fragrance from the Moringa tree blossoms, as well as other delectably moisturizing and protective Community Trade ingredients in the new range. By choosing Community Trade ingredients, the customer is contributing to a worldwide program that works to support livelihoods for marginalized communities in more than 20 countries across the globe. Gosh, we love that!
Meet The Body Shop's new Moringa Bath & Body range:
Moringa Body Butter
Moringa Body Scrub
Moringa Milk Body Lotion
Moringa Foaming Bath
Moringa Shower Gel
Moringa Soap
*curtsies*
The Moringa Bath & Body range from The Body Shop is fragrantly and ever so fabulously on counter now. What a delight!
One Comment
Leave a Reply