What A Beautiful World!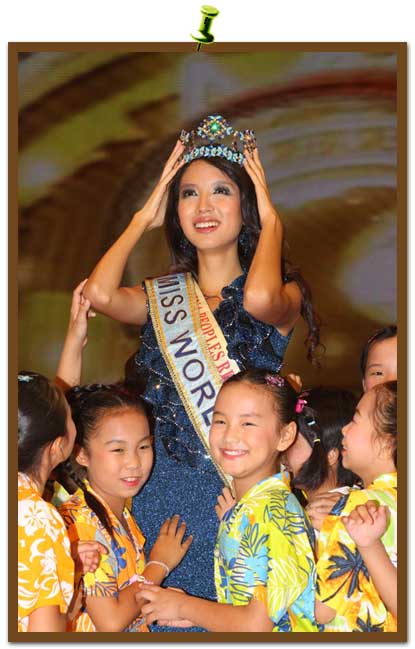 L'Oréal Paris welcomes the reigning Miss World, Zilin Zhang, as its new spokesperson. How exciting! Beauty Marked! was chuffed to learn of the most recent appointment of this stellar beauty in Asia (excluding Japan) by L'Oréal Paris. As the newest L'Oréal Paris ambassadress, Zilin Zhang joins the company of some of the world's most beautiful and accomplished people including Eva Longoria, Jane Fonda, Claudia Schiffer, Andie MacDowell, Milla Jovovich, Noémie Lenoir, Matthew Fox, Pierce Brosnan, Penélope Cruz and Aishwarya Rai.
"I am thrilled to be joining the L'Oréal Paris family! I am proud to associate my image with a brand that attaches such importance to the diversity of beauty… and Chinese beauty in particular! I myself use L'Oréal Paris products, which are ideally suited to Chinese skins and hair. It is a great honour to be associated with women as lovely and talented as Jane Fonda, Penélope Cruz and Linda Evangelista", affirms Zilin Zhang.

Just incase you didn't know…
Zilin Zhang is the reigning Miss World. Zilin was crowned Miss World on December 1st 2007 amid scenes of wild jubilation throughout China. She is China's first Miss World. She is much loved by her country and has been chosen as the first woman to carry the Olympic torch when it arrived in China on the 4th May 2008.
Zilin Zhang's career in modeling started in 2003 when she was discovered by one of China's biggest modeling agencies. At nearly six-feet tall she is instantly recognizable on the catwalk. In 2006, she was short listed as one of the top ten supermodels during the Chinese Fashion and Culture Awards. She was then selected to participate in 2007 Giorgio Armani Autumn/Winter Collection show in Paris and later earned herself the title of "Top Model of the Year".
Growing up from an academic-oriented family, Zilin has always emphasized the importance of her academic performance. She has achieved great success in her studies, gaining a BA in Business Administration from one of China's leading Universities. She is planning on doing her Masters degree after her year as Miss World.
Zilin Zhang is also an accomplished sportswoman. She began athletics training when she was eight years-old. She excels in triple jump and hurdles and has undergone professional training in the 100m hurdles alongside the Olympic Gold Medalist, Liu Xiang. During her university life she competed and won many sports competitions and was University champion in her two best events. In 2005, she was also the holder of "Sports Advance Distinction Award" in her university.
Our hat is off to you, Miss Zilin Zhang. Brava!
One Comment
Leave a Reply