A Delightful Blend Of Contradictions.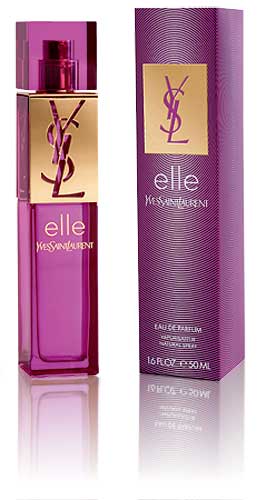 Yves Saint Laurent delivered a beautiful fragrance bundle to our counters just only days ago. February 25th, 2008 marked the moment Elle first graced us with her perfected perfumed presence. Elle was wonderfully created by Olivier Crep and Jacques Cavallier and is a fragrance that truly celebrates a woman and all her many facets. It's quirky, dramatic, stylish, charismatic, somewhat subdued, amorous and wildly feminine, while demonstrating a flair of contemporary chic with a touch of bohemian.
"Elle is a composition of pure lines built on a captivating accord of patchouli and Bourbon vetiver essences. This bonding of powerful, authentic woody notes makes the skin incandescent. It is tamed with a fresh, colorful, infinitely feminine opening. Citron lends the fragrance its incomparable luminosity. A hint of lychee adds a touch of sass and peony gives it delicacy and sweetness. Blended with a freesia heart note, pink berries create a sublime fusion of contrasts. Taken to the extreme, they create an exciting, surprising effect, spicing the harmony and giving it rhythm of perpetual motion."
Elle, by Yves Saint Laurent, is on counter now in 50 ml, 90 ml sizes as well as available in a body lotion for your perfumed pleasure. Enjoy!
No Comments
Be the first to comment!
Leave a Reply