Not Long Now.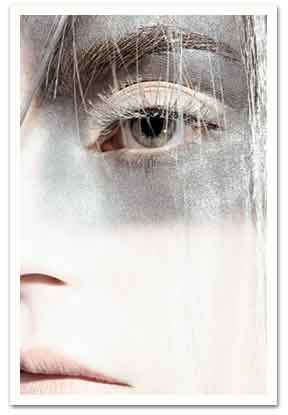 I have quite a few bits and bobs from the gorgeous M.A.C. METAL-X Collection which is due to get all the Alchemists in a lather come Monday December 3rd, 2007. But I could not, to save my soul, actually bring myself to swipe the products in order to sample them. Oh the shame. They were just too darn pretty to touch. *hangs head*
But then, not quite out of the blue, I was able to summon up a bit of courage and give this beautiful collection a spin. I suspect my new found courage had a lot to do with that fact that my darling and ever so cheeky 4 year old daughter asked with the most perfectly straight (albeit angelic) face, with two METAL-X shadows already in hand, if she could use them on her dolls seeing that they were just sitting there! Eek! It was then…that I knew it had to be now, by me or what's that expression… "If you're slow, you'll blow"? Yep. That's it. So, I took a few deep breaths and planted the brush on the divine cream to powder shadow and applied. Oh.My.Goodness! *then faints* Luckily for me, as I have not yet regained command of speech/type post faint, the M.A.C. brief is 100% spot on:
M.A.C. METAL-X. A simple trace elevated to the richest most opulent extreme found in the creamy, colour-rich METAL-X Cream Shadow. An amalgam of pigment, shine, and dimension that through its intensity forges an unforgettable mélange.

To be perfectly honest, nothing more needs to be said, except for a big "sorry" for being such a big baby and not cracking these beauties open a lot sooner. METAL-X is just pure unadulterated alchemistic magic!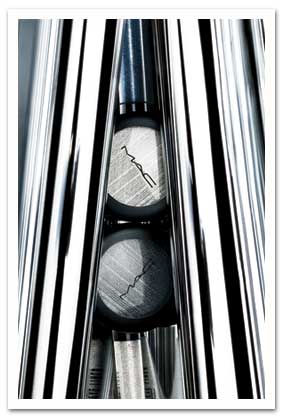 METAL-X Cream Shadow
Virgin Silver White with silver pearl
Pure Ore Metallic green gold
Goldspice Metallic coppery gold
Fusion Gold Light pinky beige with gold pearl
Pink Ingot Mid-toned blue pink with gold pearl
Metalblu Navy blue with silvery pearl
Cyber Metallic silver with silver pearl
6th Sin Forest green with silver pearl
Plum Electric Deep purple with red pearl
Glitter Eye Liner
Blitzed Yellow gold with multicolour glitter
Wonderwhite Silvery white with multicolour glitter
Enbronze Deep brown with multicolour glitter
Pewterpink Blue purple with multicolour glitter
Lime Dandy Mid-tone yellow green with green glitter
*METAL-X Collection is available on December 3rd, 2007 from all M.A.C. locations and online.

No Comments
Be the first to comment!
Leave a Reply