For The Travelling Man.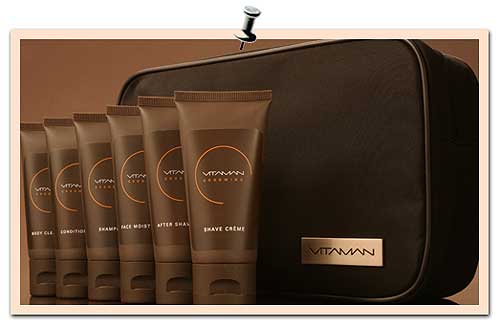 Just because Beauty Marked! knows precisely how important it is to keep our men gorgeously groomed both home and away, we had to point you in the direction of this great travel kit from VitaMan. The VitaMan Travel Kit contains a stellar lineup of holistically minded skin and hair care products that are based on traditional native Australian plant and herbal extracts that have been expertly used by indigenous Australians for thousands of years. Every VitaMan product uses organic aloe vera as its base as opposed to mineral oil or lanolin which is pretty nifty within itself.
The VitaMan Travel Kit contains six 50-ml travel-sized tubes of great grooming products comprising of VitaMan Face & Body Cleanser, Face Moisturizer, Shave Crème, After Shave Balm, Shampoo, and Conditioner. But wait, it gets even better as all of this fabulousness comes in a soft and easily packable water-proof travel case with 6 internal pockets for the products and plenty more room for other grooming incidentals as well. He'll just adore it…nearly as much as he adores you!
No Comments
Be the first to comment!
Leave a Reply