Spoilt For Choice.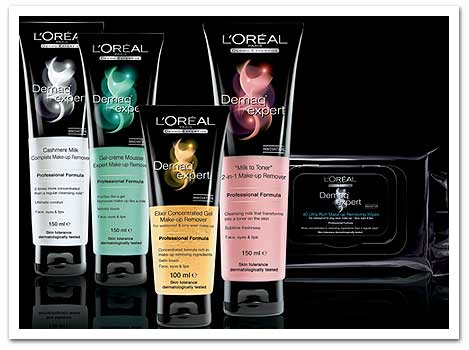 And not before time, I say. L'Oréal Paris introduces De-maq' expert to our beauty-FULL world. The L'Oréal Paris De-maq' expert range is designed to aptly address our need for highly effective makeup removing cleansers that are tailored to our skin's concerns while being able to stand up to the super pigmented, long wearing makeup we adore. L'Oréal Paris De-maq' expert range consists of 5 professional formulas which have been adapted to suit the needs and desires of a variety of women and have been both ophthalmologically and dermatologically tested. Each product in the L'Oréal Paris De-maq' expert range boasts outstanding efficacy when faced with even the most stubborn makeup and leaves the skin feeling supple and, most importantly, immaculately cleansed.
The L'Oréal Paris De-maq' expert range:
Cashmere Milk Complete Make-up Remover- This soft formula is for individuals who find water too harsh on their skin and who are looking for maximum benefit and comfort.

Gel-créme Mousse Expert Make-up Remover- This cleanser uses the TIP technology (Temperature Inversion Phase) on a traditional oil-in-water emulsion, to create a formula containing a large quantity of oil dispersed in microscopic droplets. This is specially developed for those who prefer wash-off products that act to dissolve all traces of makeup without drying the skin.

Elixir Concentrated Gel Make-up Remover- For those using long-hold makeup such as waterproof mascara, lipstick, and long lasting foundations. The transparent oil-in-water mix transforms into a white milky lotion on contact with water.

"Milk to Toner" 2 in 1 Make-up Remover- This product was specially designed for those who prefer makeup removing milks and the effect of a toner. On application, this cleanser goes on thick and creamy, but when massaged in, it transforms into a milky toner that comprehensively removes makeup while toning in a single step.

Ultra Rich Make-up Removing Wipes- These are the perfect travel companion for those wanting to save time or for those who simply prefer wipes. De-maq' expert wipes gently remove makeup without drying the skin.
What a fabulous selection! L'Oréal Paris De-maq' expert range is available from August 2007 and available from selected pharmacies, department and variety stores nationally. And yes, you are so worth it! *wink*
No Comments
Be the first to comment!
Leave a Reply