Nothing Beats Your Full Potential! xx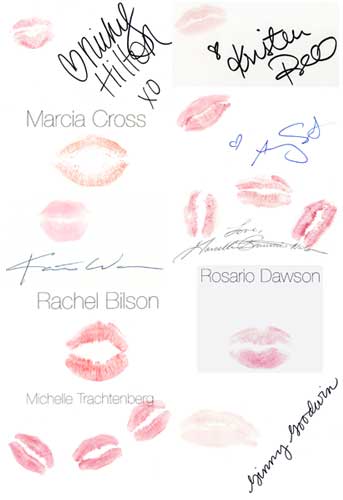 Who said Hollywood's Celebs don't kiss and tell? Well, judging from the All Star line up of A-listers puckering up to tell us all about their favourite shade of Clinique Full Potential Lips Plump and Shine, I wouldn't bet on it. 10 Hollywood vixens have virtually planted one here, on this very Blog, to reveal their favourite shade of Clinique's newest range of colourful lip plumpers to enter into the Clinique lip gloss family. These lovely ladies are here to tell you all about the multi-purpose, high shine, non-irritating Full Potential Lips Plump and Shine!
Teen queens Amy Smart and Rachel Bilson keep it sweet choosing Sugar Plump as their favourite shade. Whilst Nicky Hilton, Rosario Dawson and Garcelle Beavais-Nilon choose Cherry Bomb as their handbag favourite.

Ginny Goodwin chooses Peach Plump as her must have on the set of House, as she prefers a more fruity lip fill.

Luscious Lilac is a favourite of Grey's Anatomy's Kate Walsh. While the inquisitive Kristen Bell, the star of Veronica Mars, chooses Play-full Plump.

It is no surprise that glamourous Desperate Housewife Marcia Cross chooses Glamourfull as her favourite shade and gorgeous teen star Michelle Tratchenburg prefers a deeper colour, selecting Voluptuous Violet as her Full Potential Lip shade of choice.
Clinique Full Potential Lips Plump and Shine is on counter now and available online in Blackberry Bloom, Cherry Bomb, Play-full Plump, Luscious Lilac, Pure Plump, Mimosa Blossom, Peach Plump, Sugar Plump, Voluptuous Violet, and Glamourfull.


BM!xx
No Comments
Be the first to comment!
Leave a Reply