Who's In The Hot Seat?
Treasure Trove Archive
Did you miss a previous Beauty Marked! interview? Never fear... we have them all available right here!

Up Close And Personal
Beauty Marked! talks candidly to professional men and women in the celebrity spotlight and discovers their beauty secrets, favourite beauty products and their journey to success.
If you have any comments or questions about any of our celebrity interviews, feel free to contact Beauty Marked! We would love to hear what you have to say.
After all, we not only use all the brains we have, but those that we can borrow!
Enjoy!
Rebecca Morrice Williams

Beauty Marked! was positively ecstatic when the opportunity presented itself for an interview with Rebecca Morrice Williams, the founder of BECCA Cosmetics.
When Beauty Marked! first heard of BECCA, it was only through catching bits of the buzz about this really terrific Perth based company that was taking the celebrity world by storm. Everyone was wearing it, Gwyneth, Cameron, Drew, Kylie, Cate, AND Kate, to name a few. But, I honestly, didn't really tune in to the buzz until I heard that celebrities like Vivica Fox, Naomi Campbell, Beyoncé, Diana Ross, Alicia Keys, Venus and Serena Williams, Marcia Hines, and Alec Wek were also big fans. "Alec Wek!?" I said to myself. "Now, wait a minute. Alec Wek, the regal, nearly blue-black, Southern Sudanese super model? Seriously? Wow!" BECCA had captured my attention now, 100%. In keeping true to Beauty Marked!'s style, I had to find out the "real deal" about BECCA Cosmetics. So I started to explore.
Beauty Marked! went on to learn that Rebecca Morrice Williams, the founder of BECCA and Steven Schapera, the CEO of BECCA were putting it on the line by declaring that they were "determined that BECCA would be built on a completely different philosophy to that of the established cosmetic companies. While they tended to cater to a predominantly Caucasian market, BECCA would break the mould and cater for ALL skin types – whether they be Asian, Hispanic, Caucasian, African or Scandinavian - developing no less than 34 concealer colours and 30 foundation colours." How extraordinary! It certainly seems as though this internationally acclaimed company is committed to being far more than a bit of "fluff and puff".
So when Beauty Marked! caught up with Rebecca Morrice Williams, the founder of BECCA, we had to know more. Beauty Marked! particularly wanted to know about the fact that BECCA obviously did not think that there was "no market" for cosmetics for Women of Colour in Australia or the rest of the world for that matter. After all, it is this very bizarre comment about there being "no market for cosmetics for Women of Colour" that is so often, recklessly bantered about in the beauty business. Beauty Marked! had to ask Rebecca Morrice Williams about the BECCA philosophy, which clearly demonstrates a true commitment to ALL women by having such an extensive and usable range. Rebecca very genuinely replied that, "folks have said that it's not commercially viable to have such an extensive range of foundation colours sitting on the shelves and I just think that's crazy! There are just so many women out there with darker skin. It is just that companies haven't done it, particularly, and Women of Colour don't know where to go and get it. So, these women are not in the shops, being seen". I had to add that, they are not being seen purchasing in shops where there is nothing for them and that is understandable. Rebecca agreed. "But someone has to do it. If they did carry cosmetics that were for them, Women of Colour would most certainly start coming into the shops and start buying", she said.
Rebecca Morrice Williams went on to further share that what is also firmly embedded in the BECCA philosophy is that, with any retailer that carries BECCA Cosmetics, "they must carry the full range. It's a condition. Otherwise, if they don't or are unwilling to, they can just go away. It has been very difficult. We say, that unless you take all the colours, we don't want to go with you. We won't be in that retailer, and that goes across the world, everywhere. Even if we know that there is hardly a huge market of Women of Colour, in a particular area, they must have these colours available, just in case. That is our philosophy."
I couldn't help but say to her how wonderful it was to actually see, in practice, a demonstrated commitment to beauty for ALL women that was virtually unheard of. I also wanted to express my gratitude on behalf of the many Women of Colour out there. BECCA can certainly cater for a highly respectable range of complexions and ethnic groups, which are traditionally left out, especially by the prestige brands. To Beauty Marked! that spoke volumes and we applaud BECCA for that. Rebecca replied by saying, without hesitation, "That's what I want. Nothing makes me more happier than when I hear the the darker colours are flying off the shelves. I took the very long term view, which we decided from the start, that this is what we wanted to do. I do get really excited, like I said, when I hear that the darker colours are flying off the shelves. Especially, in the U.S., which is what is happening now at Sephora. Which is just great!" This realisation led me to comment that that result is what Beauty Marked! is similarly aiming for in Australia. Beauty Marked! believes that once Women of Colour are aware of where they can source quality product of the highest calibre, then they too will present themselves in the shops that happily catered for their needs and buy up big.
After researching, it became readily apparent to Beauty Marked!, that part of BECCA's success has come from their genuine desire to "create a natural, flawless look", for ALL women. Beauty Marked! couldn't help but wonder how many other cosmetic companies were taking their desire for ALL women to have quality cosmetics at their disposal as seriously as BECCA Cosmetics? Rebecca told Beauty Marked! that, in fact, "BECCA is one of the first to do it. But you can now start to see other brands putting out a few more colours, especially with a few of the mainstream brands, but the more prestige brands aren't." Beauty Marked! had to agree, that there certainly weren't too many as hip, cool, or sophisticated as BECCA. Rebecca then added, "I don't know how many cosmetic companies that have taken cosmetics for Women of Colour that seriously, that they have a woman of colour directly involved in product development. I felt I really needed to have someone who knew what they were talking about. Elizabeth Reeves has been instrumental in developing the darker colours, with me. Together, we have done this. I have gotten her input into all these shades." Elizabeth Reeves is, a Kenyan born Australian, BECCA's chief makeup artist and an integral member of BECCA's Product development team.
Let's talk about this marvellous BECCA Skin Perfecting Make-Up System you have created for us gals seeking really beautiful flawless skin. As you are aware, there is a bit of an art to creating a flawless looking base on the lovely faces of Women of Colour, that won't leave us looking ashy, but will give good, natural coverage over more heavily pigmented areas of our skin if needed. Rebecca was all to happy to oblige. "This is something that we do, that is, probably, a little bit different from everyone else. BECCA has a Skin Perfecting Make-Up System, which is a 3 step process. The idea being that you start with the sheerest foundation that you can possibly wear. That means you are not putting the same heavy coverage all over the face, which can tend to look a bit mask-like. So, you start with BECCA's Luminous skin colour. It is very sheer and almost like a tinted moisturiser. It has all your antioxidants, vitamins, moisturisers, and a decent broad spectrum SPF of 20+. I think all skins should wear a decent SPF, whether pale or dark. You must protect yourself from those ageing UV-A rays, if nothing else. Those UV-A rays are out every day, winter or summer. They are the UV rays that actually age and discolour the skin. You then apply heavier coverage where you need it. Most people will need something else, especially on certain areas of their skin like spots, capillaries, dark circles, pigmentation, or whatever the problem is". This is where you'd use the BECCA Stick Foundation SPF 30+ and or Compact Concealer? "Yes", said Rebecca, "That's it. Here is where you get a more opaque coverage. So the idea is to use these products only where you need it. That way you will have heavier coverage only where you need it and sheerer in the areas where more coverage is not required. This way, you won't have the same level of coverage on your face, which leaves the skin looking more real. Then, the last step is to set the makeup with the Fine Loose Finishing Powder. Now, that is, essentially, the 3 Step System. Just by following this system, you will stop the skin from looking flat. Because of the nature of the formulations and the products and the way they work together, you don't get that matte, sort of powdery effect, which makes you look very flat, which will make any ashiness even worse."
"Another fantastic tip is to use some very fine shimmer products. We have a product called the Shimmering Skin Perfector, which is a moisturiser with ultra fine particles of shimmer in it. These particles don't look glittery or greasy. It can be added to or worn underneath the Luminous Skin Colour. This will add that "extra" glow and then you can powder all over top of that and you will get this sort of beautiful glow, that looks like it is coming from within your skin. You can also dab a little bit on the fingertips and dab that over the finishing powder on the temples and cheekbones as a highlight. Then you will be putting a bit of glow or sheen back into the skin. I reckon that's one of the really bad looks when the skin looks flat, and drab, and dull. The skin starts to look a bit dead looking. The Skin Perfecting Make-Up System handles this. It works for everyone. For all skin types and all skin colours."
"The important key to making your makeup look natural is getting the colour right too. Colour matching is the important key in making sure it looks natural on the skin and gives depth. It is the correct colour and depth that stops a product from looking mask-like. That's why we have more concealer colours than any other company. We feel that the product needs to be heavy enough to conceal and cover. So, the heavier it goes, the more colours you will need to select from to ensure perfect colour matching. With very sheer products, you can get away with the colour not being exact or with less colours, as it blends out, but the heavier, more covering products must be an exact match, definitely."
The more I learned about BECCA, the more excited I became. BECCA is an Australian company, positively loaded with luxurious, quality cosmetics, with a colour range to die for, and an integrity and passion which is unparalleled. Beauty Marked! asked Rebecca Morrice Williams, what's next for this divine company, which more than adequately caters for the largest range of complexions around? "Well, as you know, we are just distributing further all the time", said Rebecca Morrice Williams. "In March, we launched our own stand-alone BECCA flagship store in London. That is our most exciting project on the go at the moment. It is just exceptional. It takes retailing to a whole other level. Hopefully, then we will open one in New York, Sydney, Melbourne, and probably Perth in 2006. BECCA also launched in select MYERS stores across Australia too, in March. The range is growing all the time. We started with something like 117 separate items, it's now above 200, but will be closer to 300 by the end of this year. We are just getting bigger all the time. That's why I love the product development side of it so much. It's my love. There's a lot happening."
Will you be moving the Company from Perth soon? Rebecca quickly informed Beauty Marked! that, "The Product development, Marketing, the design, me -that is always going to be here. Some distribution and some of the production will be moved away. We will be having an office in the U.S. as well, as they are our biggest market. All the creatives will be here, because I'm here and I'm staying here." I said to Rebecca, "Well, that's because of your babies, you've got your babies here." "Yes", she said, "and I'm staying here."
I shared with Rebecca Morrice Williams, how motherhood really grounds you. Often it grounds you in more ways than you probably would ever have imagined. "Absolutely", agreed Rebecca. "In fact, I think it is the secret to BECCA's success, actually." I went on to share with Rebecca that I felt that my creative expression is only heightened by having children and being around 5 of my greatest creations ever. Family certainly support that creativity. They are my fertiliser, if you like, but in the nicest possible way, of course. "I think so too", agreed Rebecca. "I launched BECCA in London, just after I had my first child, Finn, and he went around the world with me, four or five times! He gave me focus. I swore I'd never do it again, though, but I am about to do it again this month, with my second baby, Ginger." How terrific. Enjoy them. "oh, I do", said Rebecca. And you know what, Beauty Marked! readers? I believe her.
As our most enjoyable and informative time together was nearing to a close, I thought I'd explore the Beauty Marked! belief with Rebecca Morrice Williams, of BECCA Cosmetics, that a large part of one's expression of beauty, understanding and sense of it, is greatly influenced by family, by mothers specifically or one's closest female relations. I asked Rebecca, who would be your most significant influence in terms of how you experience and explore your own beauty? "You know", she said, "this is an area we have been compiling our thoughts and information on recently, within the company. You know, women's first experiences with beauty and where they first had that notion of beauty, makeup, and everything. I think for most women, it is from their mothers. I think it is for me too. I can remember my mother when she used to get dressed and put her makeup on and how beautiful she looked. It has had a huge influence, in the early days, but then later on it was the fashion magazines, models, celebrities, much like with everyone else. My mother, though, certainly was up there." I agreed, that there was that very real link, there for me too. I concluded, by saying to Rebecca that I wondered what tales, her daughter, Ginger will have? "Yes", she said, "Well, I better be a good influence." We both laughed. I think you'd be pretty hard pressed to find a better beauty influence out there.
Thank you, Rebecca Morrice Williams, for being such an extraordinary beauty influence by giving us ALL the phenomenal gift of BECCA Cosmetics.

Email this interview to a friend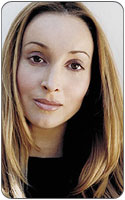 Rebecca's
Success Secret
... Becoming a parent grounds you in more ways than you probably would ever have imagined. "Absolutely", agreed Rebecca. "In fact, I think it is the secret to BECCA's success, actually."