Who's In The Hot Seat?
Treasure Trove Archive
Did you miss a previous Beauty Marked! interview? Never fear... we have them all available right here!

Up Close And Personal
Beauty Marked! talks candidly to professional men and women in the celebrity spotlight and discovers their beauty secrets, favourite beauty products and their journey to success.
If you have any comments or questions about any of our celebrity interviews, feel free to contact Beauty Marked! We would love to hear what you have to say.
After all, we not only use all the brains we have, but those that we can borrow!
Enjoy!
Elizabeth Reeves

Talk about a real treat. Beauty Marked! had the best time chatting with Elizabeth Reeves, Makeup Artist and BECCA Product Development executive. Elizabeth Reeves is a Kenyan born Australian, currently living in Perth, with her partner and beautiful baby girl.
Elizabeth Reeves joined BECCA Cosmetics in late 2001. Elizabeth started with BECCA by testing products and giving valued feedback, which was integral in developing the extensive BECCA colour range and hasn't looked back since.
Beauty Marked! asked Elizabeth Reeves what drew her to the product development side of the cosmetics industry. Elizabeth replied with the greatest answer, "Well, I was getting tired of sales assistants showing me the darkest coloured foundation for the fairest person! Unless it's magic foundation, I used to say to myself, and changes colour, it's not going to work. So, that's when I thought, I have really got to get involved here. Quality makeup is something that I have always been really passionate about. So, seeing that BECCA's base was in my hometown, I thought this would be a perfect opportunity to get involved. I contacted Rebecca Morrice Williams, the founder of BECCA, and we met up. We had a great meeting and she asked if I could help her with the development of the darker colours and that's where it all started. It has been fabulous ever since."
"Great makeup, that's a good colour match is something that I, so strongly, believe in. I'd rather wear no makeup, than wear bad looking makeup. I am very fastidious. I am a perfectionist in this regard. I think this is a trait that helps in getting these colours right. There is nothing more annoying, makeup-wise, than seeing a woman wearing the wrong coloured foundation. No matter what her skin colour is." Beauty Marked! agreed. After all, if the foundation is wrong, it's wrong, no matter how you slice it. Historically, it has been an easy thing to do, that is, to get your foundation colour wrong, for so many women. Now, thanks to BECCA's extensive range, it's so much easier for ALL women to get it right. "Absolutely", said Elizabeth.
"One of the other things that has struck me, as well", said Elizabeth, " is that darker skin tones are often more complex, in terms of the the colouring, than fairer skin colours are. So often the bases that do cater for darker complexions, will have a myriad of colours for the lighter complexions, but only 2 colours for darker complexions. What gets me is that these two colours are often so extreme . I often wonder, who are these for? Do they expect people to mix these two colours to get it right? One of the many great things about BECCA, and our relationship, is that Rebecca Morrice Williams gave me complete free range to work on developing colours that I felt would serve Women of Colour well. We were able to create colours that didn't exist in other lines, colours that were simply better suited to many complexions. Some of the foundation colours took quite a long time to develop and to perfect. Just as an example, it took over six months to develop a foundation which was my perfect colour." Beauty Marked! said to Elizabeth, how fantastic is that? How wonderful that you were be able to work that long on perfecting one colour. Many other cosmetic companies would have said. "Oh, too hard". And that would have been the end of that. This fastidiousness and tenacity speaks volumes about BECCA's dedication to creating quality cosmetics for ALL women. It is so very exciting to go to any BECCA counter and see the availability of all the foundation and concealer colours. With BECCA's phenomenal range, women don't even have to be lucky to find their perfect colour match. You just have to rock up. We both laughed. "That's right, you just have to rock up," said Elizabeth. "Any woman, of any complexion, can come to the BECCA counter and find her perfect colour."
Beauty Marked! would love to know some of your great tips on choosing the correct foundation colour. "Well", said Elizabeth, "the best way to choose a colour is to consider what is going on with the colouring of your neck, as well as your face. The colour of the neck and the face can be quite different colours. Especially for Women of Colour, it can be more obvious that the neck and face are different tones of brown. Since you don't want that mask effect, you do need to look at both areas. Test the foundation colours on your chin area. I recommend putting three colours on to test. I believe at looking at the foundations from an arms length away. You need to step back to get a better perspective. Choose the colour that you can't see. But, when you put on the colour, don't blend it away. I feel you can convince yourself, that almost any colour works, if you blend it away. So leave it largely unblended, look from arms length and then choose the one that you can't see. My feeling is, if it looks perfect unblended, it will look amazing once you have applied it properly. Of course, have a good look at your choice in natural light."
In terms of colour cosmetics, what are some of your favourite colours and tones for Women of Colour? "Women of Colour look fantastic in beautiful tones of orange and neutral tones of brown. Yes, they look really beautiful. I love warm plums on the cheeks, and orange blush on the cheeks, Burnt oranges are really fabulous. Rich warm colours, including bronzes and golds look fantastic." What is your favourite BECCA blush for Women of Colour? "well, at the moment, that would have to be 'Dahlia' creme blush. 'Dahlia' is the most beautiful burnt orange tone. It works so magnificently on every complexion, but on darker skin tones, it just gives the skin that beautiful glow. Orange is one of those colours that so many women are afraid of. But many of us have orange tones in our skin naturally, so it really works."
Please share with our Beauty Marked! readers another of your favourite BECCA cosmetic items, besides the wonderful foundations and concealers, of course. "That would have to be the Shimmering Skin Perfectors", said Elizabeth Reeves. "They are my favourite enhancing products. The Shimmering Skin Perfector with 20+ spf just livens up the skin. You can wear it alone as a base, lightly powder it, or put it on top of your finished look to highlight. The Opal Shimmering Skin Perfector is for fairer complexioned women, where the Gold and the Topaz Shimmering Skin Perfector are for the more darker complexioned women. BECCA's Shimmering Skin Perfector brightens up the complexion wonderfully and it is highly moisturising too."
Beauty Marked! had to admit that the genuine love and passion for creating and developing an accessible and wearable cosmetic line for ALL women was so very evident in Elizabeth Reeves' generosity during our interview. "Nothing gives me more joy than working with the colours and seeing them actualised," said Elizabeth. "I have had women cry, when trying out BECCA Cosmetics. They cry because they have finally found their perfect colour. For so many of them, these women have never had this before and it is something that they have always wanted. It makes me so proud." Beauty Marked! certainly agreed. It's a wonderful thing when we can help women to actualise their infinite beauty.
Thank you so very much, Elizabeth Reeves, of BECCA Cosmetics, for your dedication and generosity. What a beautiful mark you have made on us all.

Email this interview to a friend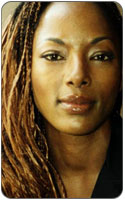 Elizabeth's
Hot Beauty Tip
... "The best way to choose a foundation colour is to consider what is going on with the colouring of your neck, as well as your face. The colour of the neck and the face can be quite different colours."
Yumi Stynes

It was no small feat trying to get this busy mother of two to cool her heels for a hot Beauty Marked! moment. Yumi shares her thoughts on beauty, with Beauty Marked!, via her candid email interview.
What makes you feel beautiful?
About six beers. Or... a big sleep and many glasses of water, a swim in the ocean and a big crunchy apple.
When did you feel the most beautiful?
Uhhh.... is this a joke? I don't know about you but I never feel beautiful. I'm not beautiful. That's how I managed to stay normal. I feel I have a healthy glow after exercise but since I never get time to exercise I have to be satisfied with laughing at and with my daughters, who are hilarious and filled with the most divine baby beauty!
Beauty Marked! believes that self confidence is what really allows one's beauty to come to the fore. It can certainly disappear what you consider your "so called flaws", and make a woman truly attractive. Self confidence is what brings out our infinite beauty.
What gives you confidence?
Research and preparation gives me confidence. If I'm going to be in a stressful, disorganised situation, I always wear two pairs of undies! It sounds like a joke but it really does help to make you feel like you have the confidence to continue! Also, I don't care too much about how I look, so I can concentrate on the task at hand.
Beauty Marked! feels that women should be strongly encouraged to have an awareness of and accentuate your beauty strengths and attributes, which are plentiful. Can you share with us, some of yours?
Yeah, I have decided that there is no way I can compete with cleavage, so I have come to utilise my shoulders, collarbones and back as erogenous zones I can occasionally bare! I also think I look better with less make-up. If you look at old photos of J-Lo, she looked kind of common and ordinary because she had too much outlandish make-up on, but now she goes for a very neutral, nude look still with lots (and LOTS) of make-up, but applied subtly, so her bone structure can speak for itself.
We seem to take our cues about our beauty from the world around us most certainly, but also a significant influence comes from our mothers. What are your thoughts on this perspective? Who have been your greatest beauty influences? How do their influences show themselves in you?
My mother is fantastically beautiful and has aged well. She is Japanese and has an exceptional diet - fish, rice, fruit, vegetables and kooky healthy stuff like seaweed, soy beans, tofu, umeboshi plums, etc. She doesn't smoke and keeps alcohol to a minimum. I try to follow her example! But I think the thing that keeps her really beautiful is her grace and dignity. She's very genteel. I'm nowhere near as respectable as she is but I always have her in the back of my mind as someone inspiring and gorgeous.
Thank you, Yumi Stynes. Yumi can be seen on Channel [V] show whatUwant weekdays from 4:30pm - 5:30pm.

Email this interview to a friend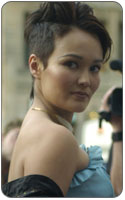 Yumi's
Hot Beauty Tip
According to Yumi, less is best! Keeping makeup to a minimum allows natural beauty to speak for itself.