Who's In The Hot Seat?
Treasure Trove Archive
Did you miss a previous Beauty Marked! interview? Never fear... we have them all available right here!

Up Close And Personal
Beauty Marked! talks candidly to professional men and women in the celebrity spotlight and discovers their beauty secrets, favourite beauty products and their journey to success.
If you have any comments or questions about any of our celebrity interviews, feel free to contact Beauty Marked! We would love to hear what you have to say.
After all, we not only use all the brains we have, but those that we can borrow!
Enjoy!
Genevieve Davis

Who said beauty is only skin deep? Well, Beauty Marked! is here to tell you, that certainly is not the case with Genevieve Davis. Genevieve Davis is a singer, song writer, musician, actor, avid yoga practitioner, mother, and all around beauty. Beauty Marked! caught up with Genevieve Davis during the tail end of her run in "The Violet Hour" at the Ensemble theatre and what a treat that was.

Since time was at a premium for Genevieve Davis, Beauty Marked! was pleased to to steal a few moments of her time, between performances. So, Beauty Marked! just jumped straight in with the questions.
For many of us, we seem to take our cues about our beauty and beauty in general from society, absolutely, but also a significant influence can come from our mothers, greater family members, or close female friends. What are your thoughts on this perspective? Please share with Beauty Marked! some of your greatest beauty influences.
Well, for me, since I was adopted and of mixed race, my mother wasn't the type of woman who spoke much about beauty. Because of my skin colouring and hair type, I had to learn about my skin and hair from magazines and books. I didn't really have anyone here to show me. Mum had a lot of trouble dealing with my hair as it was so different to hers and very frizzy. But she was great, she'd go out and search for books on black hair for me. We had friend's of the family, who lived in the States and they would send us a few magazines and products, which was great. I did a lot of experimenting and there was plenty of trial and error. I was about 15 when I got my first hair magazine. But soon after that, I would spot them, only occasionally, in the newsagents. But the mags were so costly. It wasn't until I got my first professional job, around 16 years old or so, that I could afford to buy more books and suitable hair products. But really, it wasn't until I was 21 or so that I was able to find a really great product. I recall everyone saying, "Gosh, what have you done to your hair?" ...It was hilarious. It was a coconut type product, but it did make my hair look really fabulous, I must say.
Tell us about some of the things that make or have made you feel beautiful.
The first things that would have ever made me feel beautiful...hmmm, well, as you are aware, there weren't really that many role models around, when I was growing up. Hardly any people were seen in the public light or reflected in the magazines, or on television that were a similar colouring to me. So, for me, the first thing I can recall was getting dressed up for concerts, talent quests, and Eisteffords. I remember my dance teacher introducing makeup. She showed me makeup and how it should be used. I remember looking at the other girls, copying them, and learning how to apply makeup. I recall feeling so pretty. I learned this from a very early age. I could apply makeup from around ten years old. I could do my own makeup and hair. I felt really beautiful doing that. It really helped me develop a quiet confidence. When I felt pretty, I was comfortable in myself. Finally, I forgot about wanting to be blonde and blue eyed, because I felt beautiful just as I was, without having to look like the other girls around me. I had then accepted how I looked. I also gained confidence in my performing. I got more and more comfortable in my own skin. I knew then, that I had something a bit different and something special. That helped me to gain confidence, from very early on, about my own beauty. I certainly, still, enjoy getting dressed and made up now too.
I feel beautiful now, when I look after myself. Being good to myself, doing things for myself to nurture myself does it, for sure. I know, that when I am eating healthily, drinking tons of water, exercising, I feel good. My skin feels and looks good then too. For me, it's feeling good on the inside, feeling connected to the earth and the environment, feeling healthy at the same time and loved, that's what makes me feel beautiful.
Beauty Marked! has heard that you are mad about yoga. Is that right? Is yoga a big part of how you stay strong, centred, connected and beautiful?
Totally, totally, totally! I have been big into it for a long while now. Since I started out as a dancer, I have always been very used to being physical. I stopped dancing professionally in my early twenties, but I still love to move and dance. For me, Yoga, offers a great cardiovascular workout, the strength workout and a flexibility workout too. Plus, I also love that whole mind, body, spirit thing of yoga, which gives you that extra little boost, that you don't get from a run around the block or from going to the gym. It's that connection that I love and it puts me in a space where I feel really together.
I'd love to get my own Bikram Yoga school going in Wollongong. That's one of my dreams. I'd love a big studio, with a crèche, for mums, so that lots of people could participate. I feel so strongly that I want to have Yoga be a part of my life and I think so many of us could benefit enormously from it.
One of Beauty Marked!'s ethos' is that women in a family share a special bond, especially the mother/daughter bond. This bond is certainly present where there is an abundance of unconditional love, support and appreciation for one another. Out of this bond, a beauty emanates, absolutely. Beauty Marked! aims to help women get in touch with this beauty. In fact, being in contact with this beauty can be one of our biggest assets. What are some of your thoughts on this Beauty Marked! premise?
Well, certainly from my mum, I have been given unconditional love and endless support. It has given me a feeling of self confidence and a belief in myself. It is through that confidence that a beauty does shine through. It is has been and remains so important. I look forward to the years when I can show that to my daughter, Maya. Even though she is still little, she loves watching me put on makeup and we play dress ups. Just through the fun of doing this, I am hoping that she will learn to love herself and appreciate herself. I just feel that this is so important and so very valuable.
Please share with us what are some of your up and coming projects.
I am hoping that I can get into the studio and do some recording. I also am planning to dust my keyboard off and do some more song writing. I am looking forward to that. I will really be working on my vocals, to keep any bad habits at bay.
As a parting question, please share with our Beauty Marked! readers, some tips that you have found handy, whilst living and growing in Australia, that have been helpful in nurturing your gorgeous self.
Taking time for yourself, I think is the main thing, especially in our busy lives. Be it through hobbies, or day to day things. Swimming in the ocean is great. Buying yourself a flower. They don't have to be huge things, but they really help. It might just be a little half an hour walk down to a lake or around a waterway. Nurturing yourself and your spirit as much as possible. Staying connected there, will definitely help make your life a lot happier, easier, fruitful and joyous.
Thank you Genevieve Davis for time and wonderful insightful gems.

Email this interview to a friend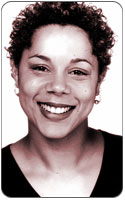 Genevieve's
Hot Beauty Tip
... For me, it's feeling good on the inside, feeling connected to the earth and the environment, feeling healthy at the same time and loved, that's what makes me feel beautiful."
Uzo

During her second trip to Australia, Beauty Marked! was fortunate enough to grab some very insightful gems from Uzo, international makeup artist, for NARS Cosmetics.
When Beauty Marked! met up with Uzo, she was, enthusiastically, straight into it. Uzo's approach to colour cosmetics is all about educating the individual on many of the specific ways one can successfully use NARS products, specifically, the art of Makeup Wardrobing, introducing colour into your makeup repertoire, and on innovative ways to have fun with this high calibre range. Uzo shared with Beauty Marked! that it is imperative every NARS client know exactly how to use their NARS product. "NARS makeup artists put the brush in the client's hand", said Uzo. "That way, when they get home, they know exactly how to use and have fun with their product. They can then, make their NARS product their own and attach their lovely, individual flair."
Uzo introduced Beauty Marked! to the "makes total sense" NARS Cosmetics concept of 'Makeup Wardrobing'. According to Uzo, this concept is fundamental to NARS Cosmetics. François Nars, the founder of NARS Cosmetics, believes it's the makeup savvy individual that incorporates the makeup items you already possess and use them with the new items of a collection. "Simply put", said Uzo, "mix the old with the new". Makeup Wardrobing is the reason why so many classic NARS makeup items are available, still, when new colours and products are introduced into the range.
Beauty Marked! has always been instantly attracted to the incredible colour housed in the NARS Cosmetic line. NARS represents fantastic colour and superior pigmentation. "François Nars' intention", said Uzo, "was to give you a superior product that was pigmented...none of those 'baby powders' you can find in other lines." Beauty Marked! had to agree. NARS Cosmetics, certainly seems to be a "baby powder" free zone and not for the faint of heart. One only needs to check out the range at MECCA Cosmetica, Australia-wide, to be tantalized by the beautiful array of pigment packed colour. Part of the attraction to NARS, for Beauty Marked!, is that NARS Cosmetics can be worn by all skin colours. Beauty Marked! thrives on the belief that you can wear what you swear, up and down, you can't. NARS proves that notion case and point. It seems as though an individual's success with the range is, more so, based on their level of education on the myriad of uses of the NARS line, than whether they are fair or darker complexioned. Quality product with pigment is usable for everyone. NARS Cosmetics, allows you to confidently be a bit bolshy and pull off the magic of this professional range. NARS Cosmetics can be as bold or as subtle as you like.
"Absolutely", said Uzo. "That is just one of the reasons I think what you are doing, with Beauty Marked!, is so phenomenal. It is wonderful that Beauty Marked! is letting everyone out there know, that there is so much available to them. It really is about educating and making people aware of the products out there and on how to successfully use them."
Please share with us, Uzo, some of your favourite NARS products at the moment, and a few tips on how to best use them. "Well, for starters, that would have to be El Dorado cream shadow. El Dorado is a lovely golden colour eye shadow that is so truly easy to put on every woman, no matter what her skintone. It also works with the older, pre-existing, colours in the range as well as the newer products. I love the teal blue eyeliner pencil called Kalisté. It is a great pencil. It is an extremely strong colour and depends on the individual's own personal style, how it is put on. What has been really popular in the fashion shows in Europe, is to wear Kalisté on the lower lid's waterline. This is a great way to wear colour without being so obvious. Traditionally, a woman would wear such bold colour on the upper lid to line, which is great for someone who really loves colour. For those that are a little shy, and don't usually wear colour, just use it on the lower waterline and wear something more neutral along the upper lid." To Beauty Marked! wearing colour like you have described is great, because you get this fabulous 'wink' of colour, which is just, undeniably, gorgeous.
"One of my main aims to share with Australian women and makeup artists, is to show those who are scared of colour, the easiest way to confidently wear colour. I want to show them the benefits and beauty of colour, whether it be by using a grey pencil or shadow smudged around the lower lashline." Uzo explains. "Another great example is by using the NARS pencil in Bamako. Bamako is an eggplant/purple coloured pencil, which looks fantastic around the lashline instead of around the entire upper eyelid. I love pencils from NARS and we have a lot to choose from. Personally, I think wearing pencils is the easiest way to wear shadows. Pencils are especially easy for the novice who is new to NARS or may not, necessarily, have much time first thing in the morning or who doesn't want to go through a lot of techniques or steps. A lot of the liners can just be, literally, smudged on. Take the slightly more neutral Kyoto pencil, which is an olive green colour or also London, which is a grey pencil with a slight blue undertone, and just line the upper lid with these. I love this, because you can even draw a messy line and then smudge a shadow on top and your look is then, pretty much, done." Gorgeous.
Beauty Marked! is a big fan of topping cream with powder in makeup application. It really adds depth to the colours used and definitely adds greater longevity to the wear of the products. What are some of your favourite NARS combinations? "I love the Kyoto pencil, we talked about earlier, with a bit of Sea, Sex, and Sun Duo smudged on top. It looks amazing! Again, London pencil smudged with Island Fever or even actually, South Pacific. The aquamarine blue in this Duo is also amazing. It's a lot of colour, even on the runway, but for the average woman, she can just play it down. After all, it's all about how you place it." I suppose, your motto here, Uzo, could be: Play it down, but still play it! We both laughed.
"Another of my favourite combinations, that epitomizes the concept of Makeup Wardrobing, is the Iceland Duo eyeshadows," recalls Uzo. "Iceland looks white in the compact. On, Iceland Duo has a slightly lavender blue side to it and the other side has an almost mint green look to it. So when you place either of these shadows on top of a colour that is in a a similar colour family to the shadow, it tones down the colour without taking anything away from the richness of the pigment. It's an amazing Duo. I think every NARS client should have this one. This older, classic, member of the collection works perfectly with all the newer, bolder colours too. Iceland Duo is so useful if you want to take your colour down a couple of shades, if your not ready for full on colour."
Just to take you back to a Beauty Marked! premise mentioned earlier, that often, many women can indeed wear what they are convinced that they can't. It's all in the understanding of how to use products to their advantage. Some pretty amazing creations can come out of tweaking and fiddling, with products that you would least expect would work with your colourings. Beauty Marked! can only imagine the sheer numbers of people who aren't aware of the magical gems that are abundantly contained in the NARS Cosmetics line. Exactly how useful is the NARS range to Women of Colour particularly, as they often feel the most uncatered for in the cosmetic industry? "Incredibly useful," replied Uzo. "François Nars has created this range for ALL skintones. Interestingly enough, with NARS, it's the colours that you might initially feel you can't wear, that you are, more than likely, the best suited to. Take for instance, NARS Desire blush, which is a matte candy pink in colour. Desire blush looks like it would only show up on very fair skin, but was designed, literally, to work on all skintones. It's pigment, which is almost transparent, will not look cakey or appear chalky. Desire will show up on most skintones. Now, take for example, someone who is very very dark skinned, say like Alec Wek, Desire worn alone might not show up. But, if you apply Desire on a darker skin, with the NARS Multiple in Sumatra underneath, Desire will show up beautifully. Also, by layering in this manner, by using a cream blush first, then powder, you will prevent the look from being ashy. Even without this fiddling, there are NARS products that will work for a range of colourings, that don't require mixing with another product to get it to work. For instance, NARS Crazed blush is beautiful shimmery blush that is almost pure pigment. Crazed will most definitely show up on ALL. Crazed is for everybody. After all, this was François Nars' intention: to give you a superior product, that was so very pigmented."
All this blush talk is very exciting to Beauty Marked!. After all, it is probably one of Beauty Marked!'s most favourite makeup items. So to maintain this "blush euphoria", please share with us, your thoughts on NARS cream blushes. "NARS has two forms of blushes", said Uzo. "We have what we call The Multiple and we have the traditional cream blush in a compact. Now with these cream blushes in the compact, François Nars out did himself with the textures and the colours. The compact blushes are phenomenal. I think they are a little bit smoother in texture than Multiples. The compact cream blushes are meant to be solely used on the cheeks, where Multiples were designed to be used on the eyes, the cheeks, and the lips. Multiples are incredibly versatile. Montenegro, which is similar to Sumatra, but a little deeper, is fabulous on an extremely dark skin as well as an extremely fair skin. This beautiful berry colour is one of my favourites. I can't forget Cactus Flower, this is a blush that is strong enough to be worn on it's own, on all skin colours. Cactus Flower is really pretty and has small gold flecks throughout. It's universally flattering."
Speaking of being universal in nature, the word universal seems to typify François Nars' philosophy for NARS Cosmetics. NARS Cosmetics is truly universal in it's approach. Absolutely! After all, it is the cosmetic companies that have this 'universal' approach, that are the most successful. "I would have to agree with you there," said Uzo. "For instance, if I take a look at NARS, as only those who work for the line, it is truly representative of our greater, more multicultural, surroundings. The Artists that work with NARS are from many diverse backgrounds. We have Asians, blacks, whites, and hispanics to name just a few. It's truly like the United Nations. It's great." This fantastic diversity must infinitely enhance the richness and knowledge base of NARS Cosmetics. Beauty Marked! can only believe that this diversity will provide greater entree into the needs and desires of ALL women for all things beauty. How wonderful!
Thank you so very much Uzo, for sharing your expertise with us and for giving Beauty Marked! access into the colourful world of NARS Cosmetics.

Email this interview to a friend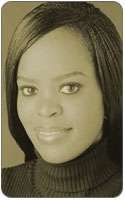 Uzo's
Hot Beauty Tip
... to achieve Makeup Wardrobing simply mix the old with the new."