Who's In The Hot Seat?
Treasure Trove Archive
Did you miss a previous Beauty Marked! interview? Never fear... we have them all available right here!

Up Close And Personal
Beauty Marked! talks candidly to professional men and women in the celebrity spotlight and discovers their beauty secrets, favourite beauty products and their journey to success.
If you have any comments or questions about any of our celebrity interviews, feel free to contact Beauty Marked! We would love to hear what you have to say.
After all, we not only use all the brains we have, but those that we can borrow!
Enjoy!
Marcia Hines

Beauty Marked! caught up with Marcia Hines, Australia's most gorgeous and talented Queen of song.
We were fortunate to have caught up with Marcia Hines, on the eve of her current tour, "Marcia, Songs From The Journey".
On meeting with Marcia Hines, I was instantly struck by her beauty. If there was ever an example of a person exuding beauty from both within and without, Marcia Hines is it. Marcia's hair and make-up were flawless, natural looking and a true testament to how it should be done.
Marcia Hines made me feel instantly welcome. Before long, we were both nattering away like a pair of long lost pals. With only ten minutes left for our interview, I thought, OOH aah! I better get in at least one question for our gorgeous Beauty Marked! readers.
I asked Marcia Hines about her make-up. She very proudly stated that she adores BECCA Cosmetics. I would certainly agree that BECCA was really working for her. This Perth based company has got it very right. Marcia said she was initially taken by BECCA's extensive colour chart and she thought "yeah, right", how can that be possible? But after trying the product and finding her perfect colour match, she was both surprised and pleased with the suitability of their products. Now she often, exclusively, wears BECCA foundations.
Marcia Hines loves going into the newsagents and seeing all the beautiful Women of Colour on the American and European magazines. I shared with Marcia, Beauty Marked!'s desire for Women of Colour to also be able to see themselves reflected in the models and editorials in the Australian magazines. Beauty Marked! wants Women of Colour to know that they too, are beautiful. Marcia Hines deftly replied, "They better! They should know that they are beautiful. That is something you "get" as a child. We need to give it to one another. That's our job. Sisters give it to one another." Marcia further went on to say, "Beauty is beauty is beauty is beauty. I don't really care what colour it is, right. There is beauty from within and there is beauty that people can see with their eyes. Yeah? So, I do think it is our job, in many ways, to encourage our babies and other women and tell them that they are beautiful. You know what I mean? And it's our partner's job too."
While listening to Marcia Hines' response, I was aware of how graciously confident she was and that her self confidence was emanating a beauty in it's own right. It reminded me of the Beauty Marked! belief that self confidence is what really allows one's beauty to come to the fore. It can certainly lessen what you consider your perceived faults to be and can make a woman truly attractive. Self confidence is what brings out our infinite beauty. It is only when women are in touch with that confidence, that they become breathtakingly beautiful. Marcia Hines agreed. "Oh, absolutely", she said. "That's right. They become even more beautiful. As women grow, they just blossom." "You know", she said, "it's all about believing in yourself."
I told Marcia Hines, that there's certainly beauty emanating from her, from both the inside and out. One of the many things that I love about her public persona is that you can so very much see that she encourages this inner and outer beauty from all those that she comes in contact with. Marcia replied by saying, "Oh yeah, but you can only encourage it if you believe it. And, if you believe it, you can then give it to others. And, I think life is about giving. Whenever you can, where ever you can." Beauty Marked! sees beauty as also being the expression of our generosity to other people and that expression of generosity is very present for me in Marcia Hines. "Why, thank you". said Marcia. "But, you are only seeing what I was taught by my mother...and some of the great people that have helped me out." I asked Marcia to share with me, what are some of the relationships, both present and past, that she has had that nurture her and allow her to fully express her beautiful self. "My mother, my godmother and godfather, my brother, a lot of my aunties, most certainly my daughter, Deni, family, yes, family. Oh, people in my church also, my management of course, my partner and the general public are very kind." Marcia's gratitude was very obvious.
Before we knew it, our time together had all too quickly come to an end. Our meeting reaffirmed the Beauty Marked! ethos that the women within a family share a special bond. They may or may not be aware of this bond, or the special beauty that they share. I do feel that this bond or closeness, if you like, exudes a beauty of it's own throughout all that share it. This beauty is most evident in families where unconditional love and support are abundant. It is out of this understanding, that Beauty Marked! endeavours to talk to women, such as Marcia Hines, who have so openly shared this blessing with their own beautiful families and also with the greater community.
Thank you Marcia Hines, for your generosity.

Email this interview to a friend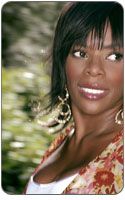 Marcia's
Beauty Advice
"... As women grow, they just blossom." "You know", Marcia says, "it's all about believing in yourself."