Who's In The Hot Seat?
BM! catches up with Salvatore Battaglia - the Co-creator of Perfect Potion.
Treasure Trove Archive
Did you miss a previous Beauty Marked! interview? Never fear... we have them all available right here!

Up Close And Personal
Beauty Marked! talks candidly to professional men and women in the celebrity spotlight and discovers their beauty secrets, favourite beauty products and their journey to success.
If you have any comments or questions about any of our celebrity interviews, feel free to contact Beauty Marked! We would love to hear what you have to say.
After all, we not only use all the brains we have, but those that we can borrow!
Enjoy!

Beauty Marked! was so fortunate to have caught up with Salvatore Battaglia, the co-creator of Perfect Potion for a hot minute between his many marvellous adventures.
Please share with us the philosophy behind Perfect Potion. What are some of the things that move and inspire you? Personally, Beauty Marked! adores the Quotation: "How would you like to feel today?" What led you to use this great quotation?
We asked ourselves why do people come into our stores? We wanted to do some market research and find out what our customers were really interested in. So after a bit of brainstorming and only after specifically asking our customers, "how are you feeling today?", we saw how effective this simple question was. It helped us clearly understand the needs of the individual customers. It then helps us to identify exactly what our customer's needs are and what are the best suited products for them. It's as simple as that. It allows us to get at the core of what would be the greatest service to our customers.
With your demonstrated commitment to aromatherapy, natural solutions and alternatives (many shops, books, learning institutions) please share with us some of the reasons why aromatherapy is the perfect choice.
Aromatherapy is such a sensory experience. It pleases the senses on so many levels: from an olfactory point of view as well as from a touch point of view. It has a very strong nurturing aspect to it too. I think the nurturing aspect of aromatherapy is one of the core reasons. The sensory experience is very nurturing and hence very healing. Lack of this nurturing aspect is probably one of the biggest causes of one's initial anxiety and stress which then can become more serious conditions down the track. So, I really feel that this is why aromatherapy has become so popular. Compared to other complementary therapies, aromatherapy is relatively easy to administer and use at home. Plus, everybody has an affinity with pleasant smells. Pleasant smells generally make people feel pleasant. Another underlying reason why aromatherapy is very popular is the olfactory process; it has such a strong link with the emotion centres in the brain. It has a "feel good" factor associated with it. This is what really makes aromatherapy such a popular therapy. But at the same time this very "feel good" factor can also cause some people to trivialise aromatherapy. It can be really frustrating sometimes when other commercial companies wanting to jump in on the aromatherapy bandwagon, selling their products that contain very little, if any, natural essential oils, but synthetic fragrance flog them off as genuine aromatherapy. Hence you get other health professionals thinking that aromatherapy is a big joke. They often say, how can a body wash be of any therapeutic value?
Does applying essential oils topically have the same effect as if used by the olfactory route? More specifically, is one delivery route more effective than the another?
Generally, with topical application of essential oils, whether that be by massage, creams or balms, you tend to have a greater physical benefit. For example, if you apply german chamomile and lavender topically, it is going to be more soothing for skin irritations such as eczema, psoriasis. On the other hand, topical application of something like rosemary, black pepper, and ginger can be applied in a cream to sore muscles and aching joints and it will relieve the pain. Topical applications have more of a physical benefit, where the inhalation method generally influences the Limbic system and has more of an effect on our psychological and emotional wellbeing.
In understanding that there seems to be a real relationship between the emotional and the physical, and having a look at stress and it's obvious effects on the body, one can see that there is a real interrelationship between the two. Can Aromatherapy aptly address this potent dynamic and help to resolve issues that are so closely linked?
That is so spot on. Once you respect your emotional wellbeing, you will notice that physical ailments and symptoms are also addressed. For example, a client of mine, once had eczema. I was using all of the anti-inflammatory oils that you could think of using and we were only having limited success. All of a sudden, I began to suspect that this individual had a lot of childhood traumas. It's easy sometimes to blame childhood traumas, but in all honesty, they do affect the body. It did take several treatments before this cherished client of mine began to open up and discuss a lot of these issues. In all fairness, they would not have even considered that there was a real possibility for there to be a link. So, once I started using the essential oils more to help the person feel good about themselves now, it really helped the person to resolve some of those past issues that were affecting health presently. The eczema and psoriasis just disappeared. It was just incredible. Sometimes by just changing the emotional wellbeing, it can act as such a potent catalyst on the physical wellbeing. What I think is best about aromatherapy is that it is one of the very few modalities that can address physical ailments as well as emotional and even the more spiritual aspects of wellbeing all in the one treatment. It works on multiple levels.
At the crux of Beauty Marked!'s philosophy on beauty is that we are all beautiful and that it is more a matter of each of us discovering how to embrace the beauty that is within us and extending this beauty to our outward selves and to those around us. More specifically, our beauty is infinite and the beliefs, tools and tips that inspire us to be more self confident, loving, and generous should not be overlooked, but encouraged fully.
According to your wonderful definition of Aromatherapy in your book, The Enchanting Art of Aromatherapy, Aromatherapy is the use of pure essential oils to seek to influence, to change or to modify, mind, body or spirit. Please share with us some of your thoughts on how exactly Essential Oils delight, inspire, heal, nourish and assist us on our journey to beauty.
I totally agree with your statement. A lot of the oils used in skincare products are floral and wood oils. These types of oils seem to give the greatest benefits to the skin. Whether it is to soothe inflamed skin, to heal damaged skin, or help to nurture skin that is starting to age, many of the wood and floral oils have tremendous wound healing properties. The floral oils are the ones that smell the best out of the oils as well. From an aromatherapy point of view, not only do floral oils have the greatest effect on the skin, but they also are the ones that effect our emotional wellbeing. These essential oils have a multilevel effect on our well-being. It is beneficial on the skin, but even at low levels, like .5%, they will still have a positive influence on wellbeing. Although, it really depends on the individual personality, but say for a person who was after a confidence boost, I would say the floral oils are great for boosting self confidence. The heavier, more rich floral oils would have a wonderful effect. Pure essential oils like Ylang Ylang and rose will certainly improve self confidence, particularly mixed in a carrier oil. In a vaporiser, use Bergamot, Sandalwood, or sweet orange to soften the heavier florals like rose and to give it a really nice, fresh appeal. If you are going to use rich florals, use a 1:3 ratio to soften the stronger odours. One drop of a rich floral to 3 drops of citrus is usually quite perfect. A sensual blend can be the rich florals, which go so well with earthy and woody oils. For example, rose and patchouli or rose and sandalwood are just perfect. These are what I call my beautiful synergies.
What are your favourite Perfect Potion products at the moment? I say at the moment, because I am sure it's just a matter of time before you create another dynamic Perfect Potion product that is sure to move and inspire you as well as all the lovely Green Goddesses (the wonderful name Salvatore refers to his clients by) out there.
I'm so glad you said at the moment. At the moment, that would have to be Perfect Potion Replenish Night Balm it is just absolutely amazing. I love the smell of it. It has all these beautiful floral oils and vegetable oils which help to heal wounds and are good for the skin. It is one of the most divine products that we have ever made. This is the first product where we have packed so much into it. My wife, Carolyn, can take credit for this one. It is definitely my all time favourite product, even though it is one of our newer ones. My all time favourite essential oil blend has to be the Perfect Potion Eros Blend. I just love the nice earthy, complex floral and citrus tones it has. It has oils like Patchouli, Bergamot, Ylang Ylang, and Lavender for starters. We made this one back in the early eighties and I still love it so. It's really popular and we have a range of products all with this blend in it.
So what's next off the boiler for Perfect Potion?
We are working on so many really exciting things. We have quite a few things on the boil at the moment, in fact. We are further sourcing and incorporating more certified organic ingredients in our products. While all of what we use is natural and plant derived, we want to go as organic as we can, which is even better for the environment. We feel really strongly about supporting that. We, at Perfect Potion, are also hoping to release a wonderfully effective sunscreen too, in the very near future. These therapeutic products will be awesome. People around the world are starting to discover Perfect Potion, which we are very excited about. So we hope to be able to take Perfect Potion around the world. We are very mindful though, who we develop relationships with, from a business point of view, because we feel we understand our core customer, who we call the Green Goddess. The Green Goddess is a very socially aware person. We actually have such fabulous customers, in fact. The best in the world I reckon.
Wow! Thank you Salvatore Battaglia for sharing your perfect gems with us. How exciting!

Email this interview to a friend

Just because Beauty Marked! couldn't resist, here are a few of our favourite Perfect Potion products:
Frankincense and Rose Moisture Cream
Gardenia Absolute roll on perfume
Geranium Cleansing Gel
Green Tea and Jasmine Foaming Wash
Green Tea and Jasmine Double Cream
A wee more background info courtesy of the Perfect Potion team...
Salvatore Battaglia

Established the International Centre of Holistic Aromatherapy, a government approved training organisation offering a range of study options and courses for individuals wishing to study aromatherapy. All courses have been developed by Salvatore and the diploma of aromatherapy offers the most comprehensive training in the world. He has been teaching aromatherapy since 1987.
Salvatore Battaglia is the author of "The Enchanting Art of Aromatherapy" which was originally published in 1989 and "The Complete Guide to Aromatherapy", which was first published in 1994. This book has now become a standard text book of aromatherapy in many parts of the world.
Salvatore shares his passion about the world, natural therapies and aromatherapy with his wife, Carolyn Stubbin.
Together in 1991, they created the Perfect Potion, a successful concept in which Salvatore has been able to see his lifelong dreams come true – expressing creativity by continuously creating a diverse range of holistic products; education – empowering people to take responsibility for their wellbeing through natural means such as aromatherapy; and healing – providing treatments and products which have significant therapeutic value.
Carolyn Stubbin
Carolyn Stubbin was born in 1967 in Boonah, a country town in south-east Queensland where she grew up and lived with her family on a farm. From a very young age, Carolyn knew she wanted to be a herbalist and work with plant medicines. Carolyn is a qualified herbalist, aromatherapist and beauty therapist with further qualifications in natural therapies acupuncture.

Carolyn and her partner Salvatore Battaglia founded the Perfect Potion and have developed a range of pure aromatherapy products. Carolyn conducts workshops in making your own pure plant skin care products. She is a member of the National Herbalists Association of Australia. Carolyn is the author of "Do It Yourself Skin Care" (which happens to be Beauty Marked!'s 'go to' book on natural skincare - a definite must have.)
Again... Thank you, Salvatore Battaglia, for your generosity of mind and spirit!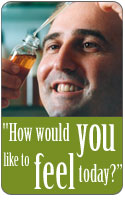 You will discover pure plant preparations that promote well-being, delight your sense, nourish your skin and enhance your environment - beautiful preparations containing the finest pure essential oils, cold pressed vegetable oils, organically grown herbal extracts and plant - derived ingredients from around the world.
Perfect potion is a sanctuary for the senses - organic, soothing and healing.
It is the dream of Salvatore Battaglia and his partner Carolyn Stubbin. Together with the perfect potion team, they are passionate people who care and readily share knowledge with you. perfect potion has created a nurturing environment that naturally enhances peoples lives.
The team at perfect potion commit to these ideals;
OUR VISION
To make the Perfect Potion experience the most sought after in the world.
OUR PURPOSE
To naturally enhance people's lives.
OUR VALUES
We love what we do. We deliver with consistency, certainty and quality. We care about our clients and each other. We develop people to their potential. Integrity in everything we do.
(Courtesy of the Perfect Potion website)